Connection Monitoring Monitors Incoming And Outgoing Network Connections
The analysis of your network traffic is vital, ConnectionMonitoring is a small portable tool which observes all the incoming and outgoing network traffic. It was born out of the author's frustration to find a monitoring tool for his small home network without paying hundreds of bucks. This tool is basically designed for small networks only but can be used on medium sized networks too. Since it is a portable tool, all you need to do is run the executable file and it will start monitoring your incoming and out going internet traffic instantly.
This is ideally designed for computers that are part of a local network or are accessible over the internet, you may use it to keep track of all inbound and outbound socket connections. It shows information in the tabular format and displays your computer's address, the protocol being used for the incoming/outgoing traffic, and the status of the connection(status may be listen, established, or timeout).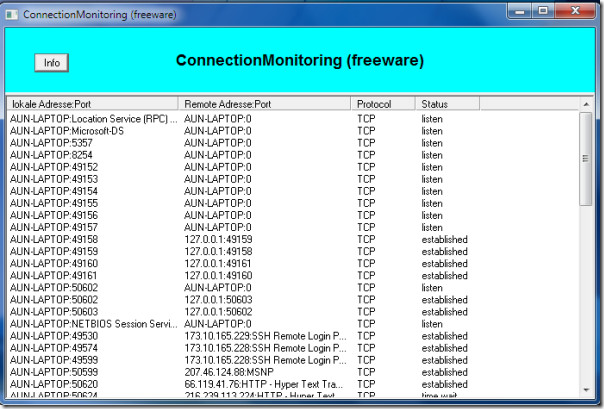 As you can see from the screenshot above, it has no buttons to control the operation. It automatically updates itself in real-time and is suitable for those people who are looking to live monitor their network.
It works on all versions of Windows including the latest Windows 7. Enjoy!