Conqu Is A Cross-Platform Application To Schedule, Manage & Sync Tasks
With each passing day, the pace of life has been increasing all over the world. Compared to our ancestors, we are required to perform a lot more tasks in lesser time. With all the different things one has to complete in a day, it is almost must to have a good task manager to help you remember and manage them easily and efficiently. Back in October 2011, we reviewed a cross-platform task management application for Android called Conqu. The same task manager is now available for Windows with all its functionality.
The application allows you to manage your tasks by providing you with a comprehensive set of features, such as Quick Add for adding new tasks without wasting time, Tags that allow you to create and apply tags to simplify managing a large number of tasks, Dates with both due date and schedule date calendars for settings up tasks that need to be performed the same day or at a later date. Conqu also allows you to manage tasks that you have delegated to others, and receive notifications when they have completed it.
The application has tabs in the left pane, including Inbox, Today, Next, Future, Waiting etc, to manage tasks separately according to importance, tags, time limits, while their details and edit options appear in the right. Tasks can be added by typing them in the top bar and clicking Add Task.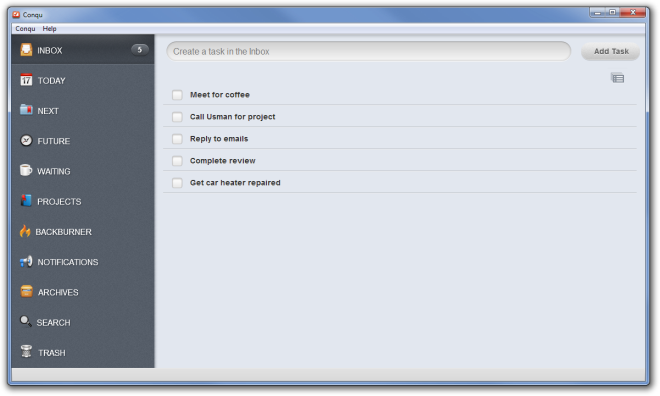 Once a task has been added, you can edit and enter more information about it, including Project, Due Date, Context, Flag it with different colors, set Energy Level, Time, Tags, set Schedule Date, and enter details of contacts if tasks are assigned to them.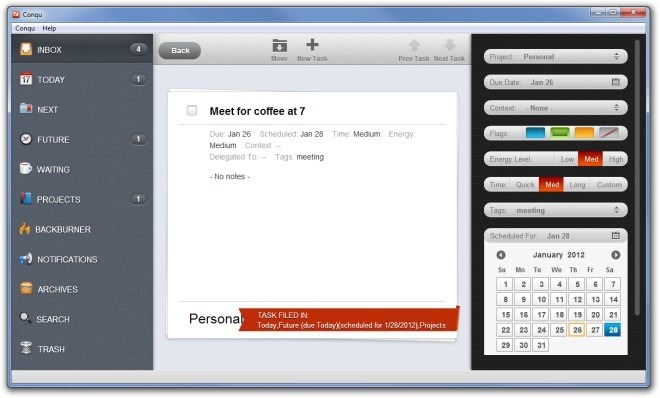 Different type of tasks can be organized into different projects and managed according to their tags, time, flags, schedules etc.

Click Conqu menu in the top-left corner and select Preferences to set up ConquSync if you are using the application on more than one device. Sharing allows you to let others know that you have delegated a task to them. They will receive an email, and when the task is done, check the task in the web-based task manager of Conqu.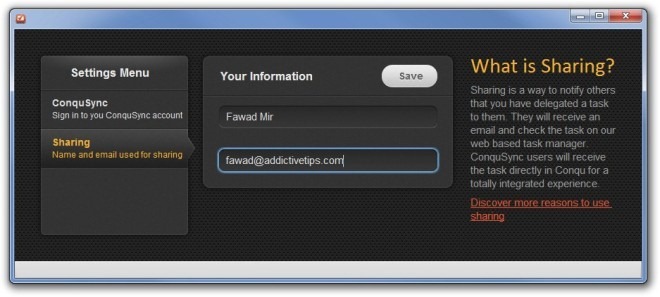 The best thing about this application, is that it is available for all the major platforms, so you can manage your tasks from almost every device, including your tablet, phone, laptop and desktop computer. The supported device are Android based tablets, iPad, Blackberry Playbook, Amazon Kindle Fire, Barnes & Noble Nook, Android based phones, iPhone, Windows, Mac OS X and Linux.