Network Sorcerer Is One-Stop Client PC Control Utility For Small Networks
Network administrators of small scale networks, ranging from 10-50 systems connected to one server, often require a standalone network suite that can automatically administer all the connected systems. There are many network tools available to control the client operations such as system shutdown, restart, hibernate, wake-on-LAN, send critical messages and more, but what if you don't want to switch between network utilities to perform required network tasks. If you're using a variety of tools to control each aspect of the deployed network, check out Network Sorcerer. It's a comprehensive application that has been specifically designed to handle small networks. Providing a unified administration console, it lets you perform client PC-related tasks right from system tray, including ping hosts, shutdown, suspend, restart, and hibernate, and send direct messages. Moreover, these options are highly configurable; you can select the options you want to access from system tray. Details to follow after the jump.
The application also keeps you updated with connected clients. It sends a pop-notification as soon as a clients connects to the network. Similarly, it notifies you about the disconnections of a client from the network. It comes packed with a remote command line utility, which allows accessing remote PC's CMD utility to perform numerous PC and network-specific operations. You will also be able to quickly access shared folders of any connected client; it presents view files option along with Ping now, to open all the selected client's shared folders.
For first time usage, it might take a few minutes to populate network resource list, which includes, client systems, routers, and other connected/installed devices on network. The application doesn't disturb current deployed network solution(s), and can be used in presence of other network admin utilities. After installation, it sits in system tray, enabling you to perform basic network tasks, and open main interface to configure network functions.
Once it finds all the connected clients on network, you can view the clients' shared files and ping the host to check whether it's available for access or not. It also allows you to remotely shutdown, hibernate, suspend, and lock client PC, while you can wake any client system with a click.
From system tray menu, you can send a direct message to selected client PC, view all resources on the network, use remote command line console, and ping & access router configuration page.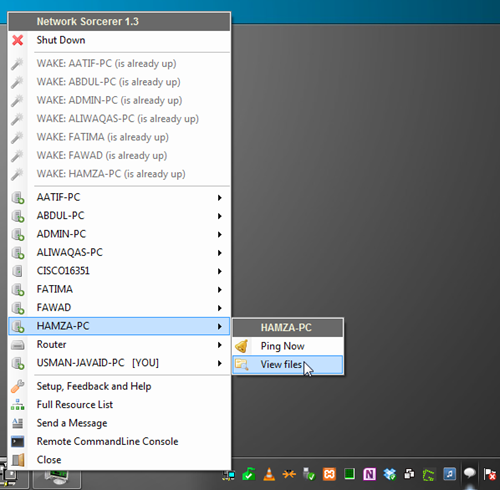 Clicking the system tray icon opens the configuration page, showing all the connected clients and other installed devices. The Interface Details tab shows in-depth information on current network connection including Operational Status, Speed, Gateway, MAC Address, DNS server, external IP address, IP routing IP v4 and v6 details and more.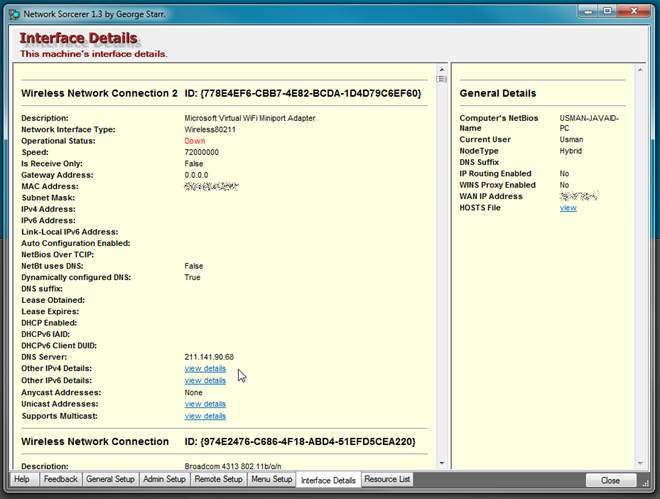 The Menu Setup includes options to configure Network Task menu (accessible from system tray). You can choose to select the functions that you want to enable/disable for specified connected systems. For instance, you can select Wake, Hibernate, and Shutdown functions for member server, and select Lock Suspend and Messaging for all connected clients.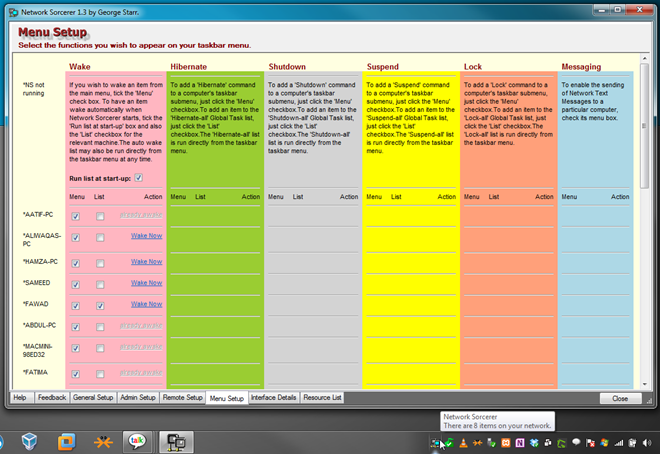 The application lets you enable and disable remote control and messaging with a click. You can also configure remote control options for your machine and other connected systems. For example, if you don't want to receive text messages from clients, just disable Allow this machine to receive network messages option.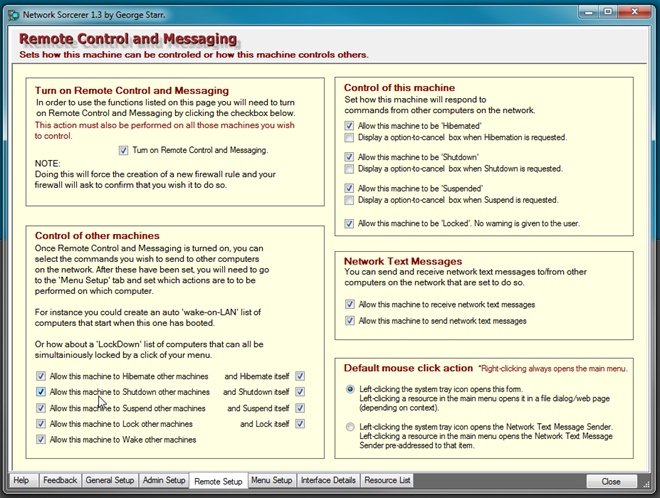 Under Administrator Setup, you will find an option to create username and password for accessing the setup page. You can also enable Big Boss mode to impose an overall control and messaging policy over the clients.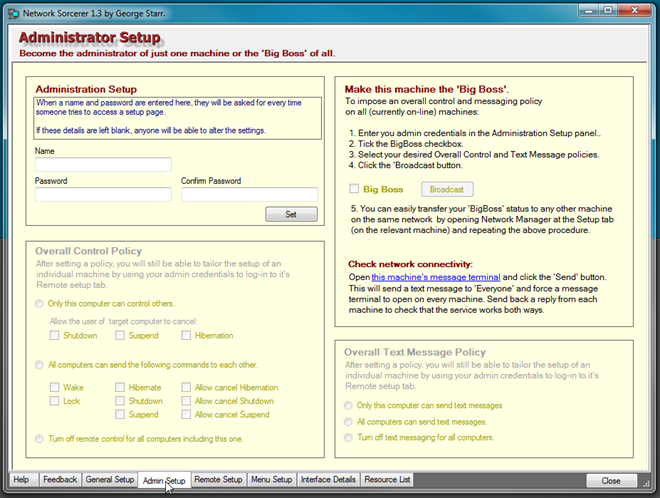 The General Setup tab enables you to configure general configuration including show ping on taskbar menu, ping timeout, show interface details, and set verification timeout for wakeup, shutdown and ping functions.
As mentioned earlier, it keeps you updated about clients joining the network and device disconnections. It sends a system tray notification as soon as it logs a critical network activity.

The installation packages comes with both server and client apps. You need to run admin console on primary PC, and other client app on all other connected PCs to control network operations. During testing, we found several problems while configuring admin PC; it takes quite a long time to respond to changes made to default settings, the resource list starts showing disconnected clients, the main menu stops responding when accessed from system tray. Perhaps the developer should look into resolving these bugs ASAP for Network Sorcerer to become a truly robust and reliable tool.
It works on both server and client editions of Windows.