Convert And Transfer Bookmarks To Any Browser With Transmute
Transmute is a free application for Windows that allow users to convert bookmarks so that they become compatible with other browsers. In this way you can access the bookmarks of one browser on other. The supported the web browser bookmarks are – Google Chrome, Firefox, Internet Explorer, Opera, Safari, Chromium, Flock, Konqueror and much more. It also supports web bookmark services like Delicious and Google Bookmarks, but are only available in Pro version. Syncing too is supported but can only be done in pro version(paid version).
Here is how it works, you select the browsers who's bookmark that you want to convert from and into. For some browsers it will automatically write the bookmark path and for some you will have to manually find it. Mostly you will find the bookmarks of your browser in the following path:
C:\Users\[Username]\AppData\Roaming\
Once you are inside the Roaming directory, try finding the desired browser and find the bookmark file. Once all is set, press Start to begin the process.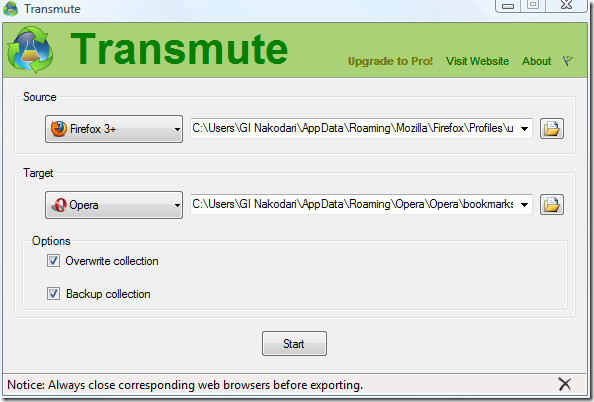 There are also two additional options which are checked by default – Overwrite collection and Backup collection. The Overwrite collection makes sure that no duplicate entries are created when merging the bookmarks and the Backup collection makes sure that the backup is created which can come handy if something goes wrong.
The previous version of Transmute was a portable app, but now it requires installation. It works on all versions of Windows. Enjoy!