Convert PDF Documents To SWF In Bulk Using 3DPageFlip PDF to Flash
Just a few days back, we featured 3DPageFlip's PDF to HTML converter. The program, along with CLI (Command line-interface) mode, lets you perform PDF to HTML conversion using a simple GUI-based Batch Mode. Recently, we came across another application from the same developer, called 3DPageFlip PDF to Flash. It offers somewhat similar PDF conversion options, but instead of converting PDF documents into HTML files, this particular application converts PDF file into the SWF format. It may come handy in situations where you need to convert multiple PDF document into SWF files and embed them into HTML pages. The program includes three different conversion modes, namely Batch Convert Mode, Hot Directories Mode and Command Line Mode. Read past the jump for details.
When you start the program, you're presented with aforementioned conversion modes, along with their brief description. The Batch Convert Mode simplifies the procedure of converting multiple PDF files to SWF. The Hot Directories Mode is a bit different, it would monitor any newer files that you might place in a defined folder to automatically convert them into SWF format, while Command Line Mode uses simple command operations in Windows' CMD utility to do the conversion. You can view its related commands by clicking Using PDF to Flash in command line, present underneath Command Line Mode option.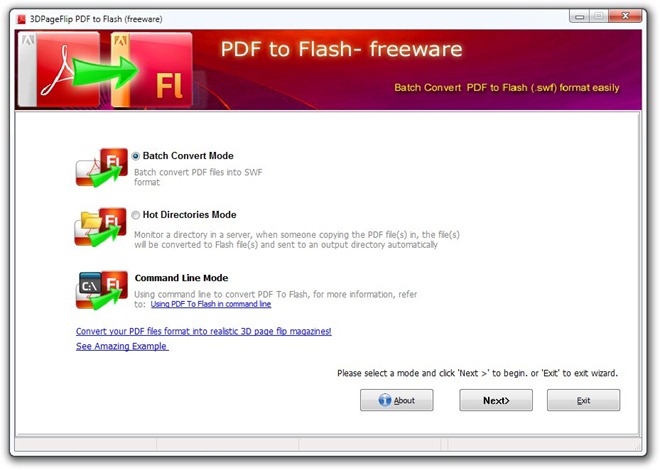 To convert the PDF files, select Batch Convert Mode on the main window and click Next. In the next step, you need to drag your files over the main window and then click Convert. Conversion process can take up to several minutes depending on the type of files you're converting. For instance, graphics intensive PDF documents take more time to convert than simple text-based PDF files.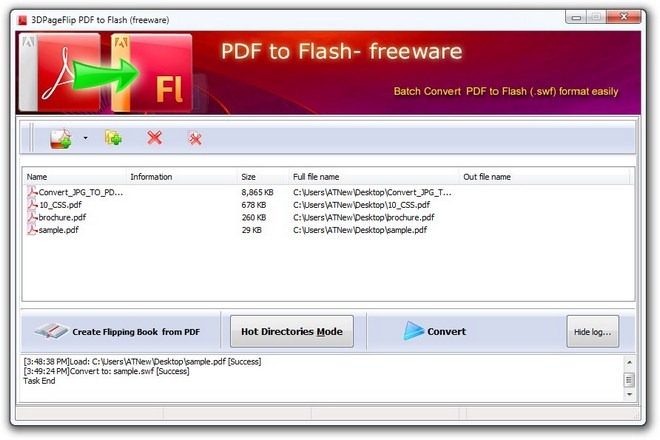 In case you're wondering about how the Hot Directories Mode work, then here's what you need to do. After selecting it from the main window, you need to select your Input Directory, Output Directory and Log File Path directory under Hot Directory Setting section. You can also mark Include Sub-Directory to automatically include any additional files contained in sub folders of your source directory. Once everything is in place, click the blue Play button at the bottom left to start the monitoring process. You may anytime halt the process by clicking Stop or minimize the application to system tray.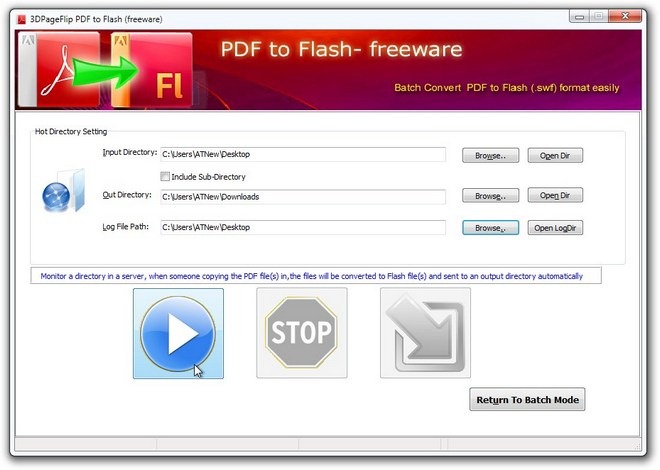 The application is available for free and works on Windows XP, Windows Vista, Windows 7 and Windows 8. Testing was carried-out on Windows 7 64-bit OS.
Download 3DPageFlip PDF to Flash