EncodeHD: Convert Videos For Mobile Devices And Home Media Player
EncodHD is nifty little tool which is built keeping home media players and other eminent mobile devices in mind. It is a re-encoder to encode the video files into list of different formats. It supports long list of mobile devices ranging from BlackBerry 8100 to BlackBerry Storm, HTC Desire to iPhones. Hardware such as, iPad, PSP, XBOX, iPod Touch, and Microsoft Zune are also supported.
The interface is quite simple in terms of usage. All you need is to specify the mobile device or other required format from the given list. As name implies, it is designed for encoding video into HD format, select H.264 Encoding and Out for TV option in case you're intending to watch the video on your home theater. You also have an option to split the video to be encoded when 4GB video size is reached. Add a video which you'd want to re-encode and enable Specify Output Folder option to bring up navigation dialog, select the location and click Start to begin the encoding process.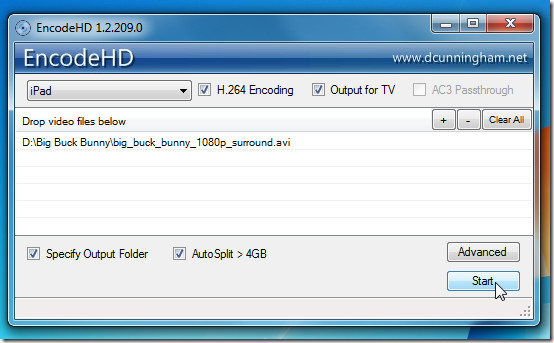 You can add multiple videos at once since drag & drop is supported and configure advanced settings to change application language options and insert FFmpeg flags. It has an ability to automatically detect and encode subtitles too, so if you want to include subtitle file, just drop the whole folder where video and subtitle file is residing.
It runs on all Windows based OS, including the latest Windows 7. Testing was carried out on system running Windows 7 x86.