Convert Your Images Into HD Videos With Photo Film Strip
Photo slideshows are rather fun to watch, but they are not that friendly when it comes to compatibility over various viewing media. Photo Film Strip takes this concept to a new level, and created stunning, beautiful movies out of your images in few simple and easy steps. A tool that would appeal to both amateur and professional photographers.
The software is capable to producing videos in various resolutions, up to 1080p full HD video. The output can be played on most media players.
Usability concept takes place in three steps. Load the desired selection of images that you want in the movie, define how they'll appear and transition, and generate the output movie file.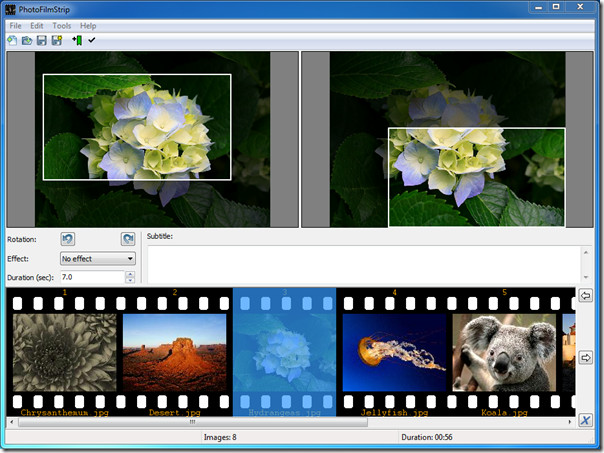 Once you have imported the pictures you want to use for a particular project, there are rather few options. Every picture is displayed twice; once as a partial shot, and the other one giving an almost full image. However, through the two panes that you are shown for each picture, you can resize the appearance, area, etc of both as per your liking. Images can be rotated, duration for displaying each picture can be defined and two effects are available, black and white and sepia. They can be applied to the whole image and not parts, something we would have liked better. Last, you can add subtitles to each image.
When you are done working with the images, hit the F9 key or click the tick mark beneath the menu bar to move to movie generation settings. Here you can choose profiles, output type, manually define length of the movie (which is the only way you can add audio track to your images), select output directory etc. Hit start to begin.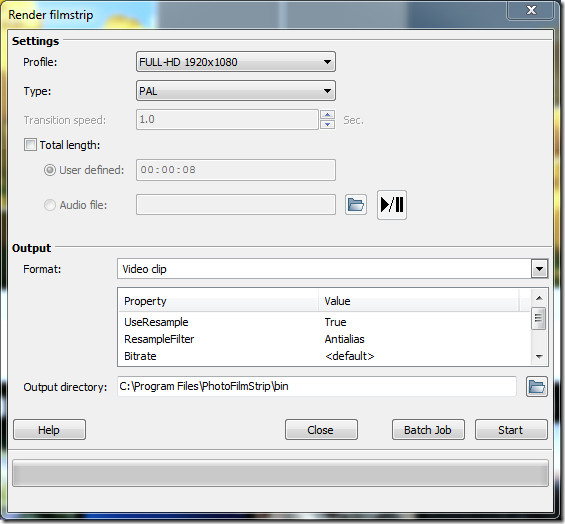 The software works awesomely good in Windows 7 32-bit OS (our test system). It should work with other versions of Microsoft Windows and Linux as well. The website is presented in German, so just visit the Download page and click on your desired platform.