Folder Lab Copies And Creates Folder Structure By Date / Day / Hour / Prefix / Postfixes
Many a times, it is required to create a folder hierarchy to save specific types of files or to move files having specific title prefix/postfix with date/time stamps in a defined sequence. In such situations, an application which can create folders in bulk while abiding all  the specified rules will come helpful. Folder Lab is a minuscule standalone application that lets user apply pre-defined rules before creating directories in bulk. Since it offers a pre-defined set of rules, you'll be able to manipulate the batch folder creation in multiple ways.
You just need to specify the path where folder hierarchy is to be created. Additionally, it lets user create files in the specified location while supports copying of complete file/folder structure to specified folder as well. Once the path is selected, just click Go to choose an option.
Since it's written specifically for creating a folder hierarchy/structure, it offers a number of options to create folders, including, Folder Structure with numbers or alphabets with defined pre & post fixes in their title, Folder title with name of current day, hour, date, etc. Similarly, you can create folders by inserting date/hour in the title.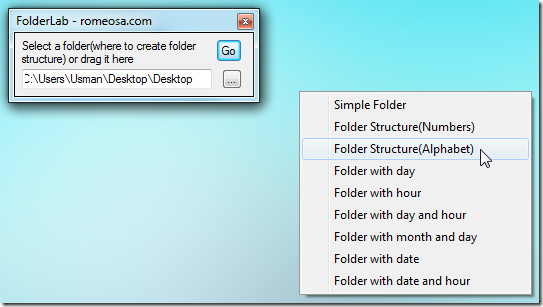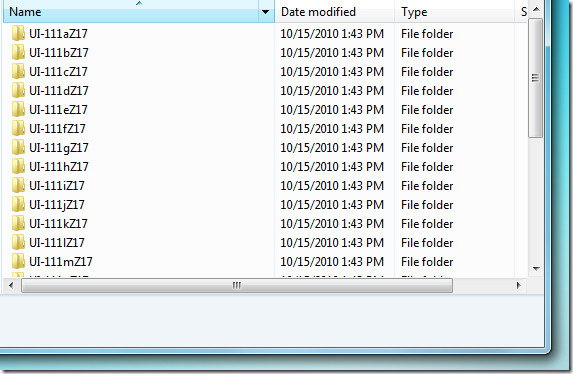 With almost every day/date/month/time relevant option, you will be prompted for adding prefix or postfix values, which are optional. It is a useful application for creating folders in bulk with user-defined time/day/month stamps or with specified pre & post fixes. It runs on all versions of Windows, testing was done on Windows 7 x86 system.
For more, you can also check out New Folder Wizard (an application that uses a text file as a source for creating folders in bulk).