Copy Only Plain Text With Get Plain Text Clipboard Extender [Windows]
We previously covered an advanced clipboard manager called PureText, which converts rich text into plain text. It comes with advanced options but not everyone wants fancy features and cluttered system tray.
Get Plain Text is a portable clipboard extender which extends the functionality of Windows clipboard manager by providing user an option of pasting only plain text. It is merely an extender and doesn't offer any interface with countless options or system tray notification icon.
When required to paste only plain text, just copy it from the source and run the executable, it will remove all formatting from the Windows build-in clipboard manager, allowing you to paste only in plain text. It is capable of removing applied font color, size,  embedded images, etc.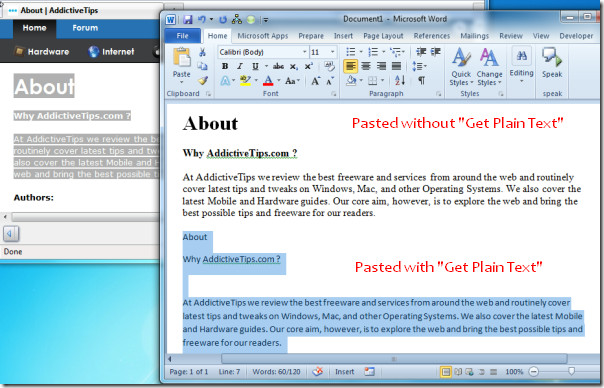 As a small portable utility it comes useful for users who excessively use copy & paste commands and don't want all the fancy formatting most websites use. It runs on all Windows based OS, testing was done on Windows 7 x86 system.