Copy Text From OS Elements And Dialog Boxes With GetWindowText
It is quite possible that sometime we often come to the need of defining various Windows troubleshooting issues on a web forum, to get our problem solved. Where words fail to explain your problem, you simply use screenshots and sometimes only words suffice the job. Sometimes you also need to list down various folder names to explain your issue but creating text lists of folder names can be a very tedious task if you type the name of each folder manually, especially if the number of folders that need to be listed down is huge. Wouldn't it be great, if you could just grab all those names and copy them all at once? Lucky for you, it is very much possible now with GetWindowText. It is a portable application that simply lets you grab and copy text from different dialog boxes and windows, such as Windows Explorer and error messages. Along with that, it supports grabbing and copying Tree Views, List Views, All Columns from the List View & Selection fields, and can read almost all type of text including Edit, Static, Groupbox-Controls etc. There is not a whole lot to talk regarding the interface as its fairly quite simple and minimalistic. The application is pretty easy to use as well. To get started, click the oddly designed blue and red button in the top left corner, and drag your mouse on top of any window that you need to be read. You will notice that all the contents of that window will automatically appear in the main interface of the application. Now, release the mouse button to keep the selected lists in the application. As now the text is in editable form, it can now be copied to any text editor for example Notepad or Wordpad etc.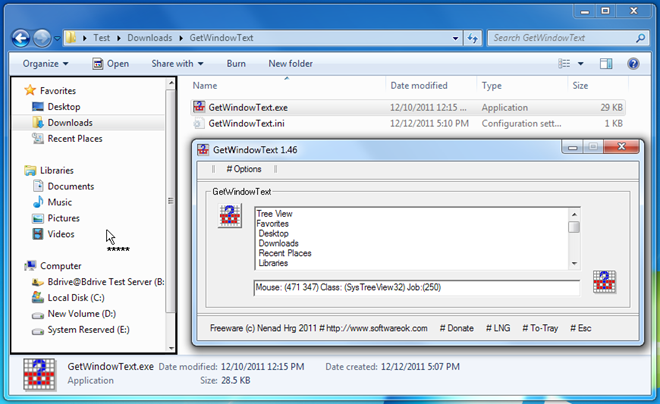 You may also click the Options button to toggle a few application specific options, for instance, Read settings for Tree Views, List Views, All Columns From The List View and Selection Fields. In addition, you can enable Minimize to tray if Close and Minimize to tray if Minimize options. Lastly, it houses two more options i.e. Always on Top which actually helps in easily drag and drop operation, and Start with Windows.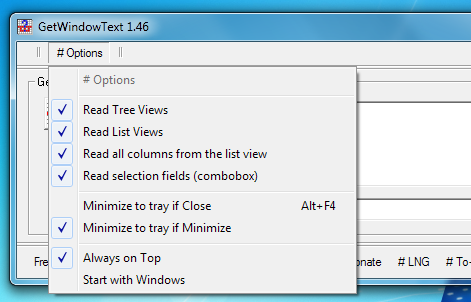 In a nutshell GetWindowText is nifty little tool can come in handy in various situations. It works on all versions of Windows, supporting both 32-bit and 64-bit OS editions.