Cortana Can Show Lyrics For The Current YouTube Video In Edge In Windows 10
Microsoft has integrated Cortana into other Windows 10 apps and features after the Anniversary Update. Many users find Cortana underwhelming. It hogs system resources quite a bit so people prefer to turn it Off and search their computer the same way they've been doing it for ages before Cortana existed. Even if you have Cortana turned Off, i.e. you aren't using voice commands to search your system, get traffic and weather updates, or create reminders, some features of its features still work. One such feature is integrated in Edge and it works exclusively on YouTube. Open a music video on YouTube in Edge, and Cortana can get the lyrics for you. You can pin the lyrics next to the video and sing along to your favorite song (preferably in an empty room).
Launch Edge and open your favorite music video on YouTube. Look in the URL bar and find the little ring icon that Cortana identifies with. Click it.

A panel will open on the right side, usually where the Settings panel appears, and in a matter of seconds the lyrics for the current song will be displayed. Click the little pin icon at the top right of this panel to pin it. You can now scroll down (and read comments) and the comments will still be displayed on the side.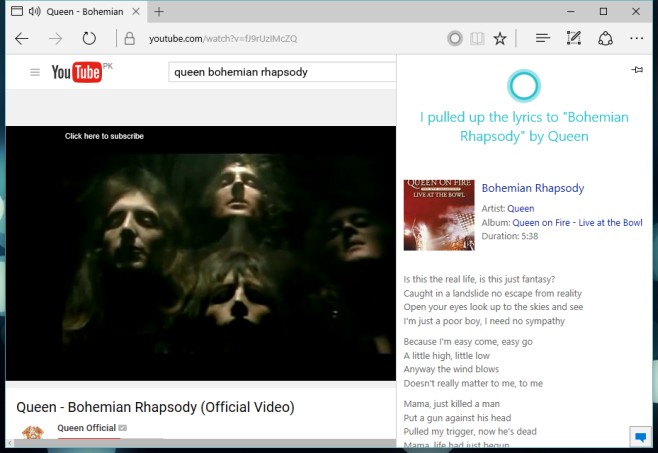 If you don't pin the panel, it will close when you click anywhere outside it. It can be reopened by clicking Cortana's URL bar icon but it will need to load the lyrics again. This seems to work only on YouTube and not on SoundCloud or even Vimeo.