Cover Retriever: Add Album Art To A Whole Album Or Selected Songs
If you're fond of album cover arts and want to see it with every music track that you play, Cover Retriever can help. It a simple tool that easily sets album cover arts for your music collection. Unlike music tagging apps that also support adding album cover art, it works in two modes; you have the option to apply single cover art to whole folder (album folder) or manually pick an album cover art for individual songs. Suppose you have songs from multiple albums of an artist, it will enable you to select a generic cover art for all the specified tracks. Likewise, you can import an album, choose one amongst suggested cover arts and apply it to the whole album without having to manually select the track to embed album art.
Moreover, you can also download a single album art (image file) to folder. It's useful when you navigate through folders in portable audio players to add an album track to playlist or to simply play a complete album. When you launch the application, it asks you to specify the music collection folder. Click Browse to choose music folder and then hit OK to list sub-folders along with underlying music tracks.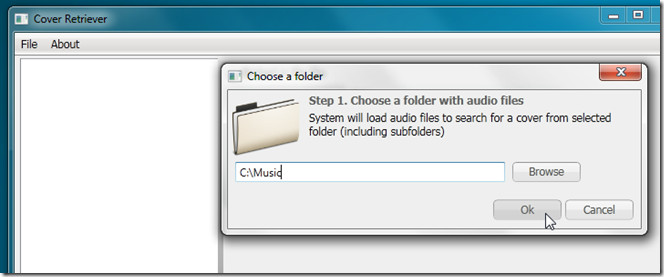 Cover Retriever shows track listing at left sidebar while the main window displays existing cover art, meta tag information, such as, Title, Artist, Album, and Year along with album cover arts from online resources. Just select the required cover art from the list, enable Embed in the file option and hit Save to insert the cover into the track.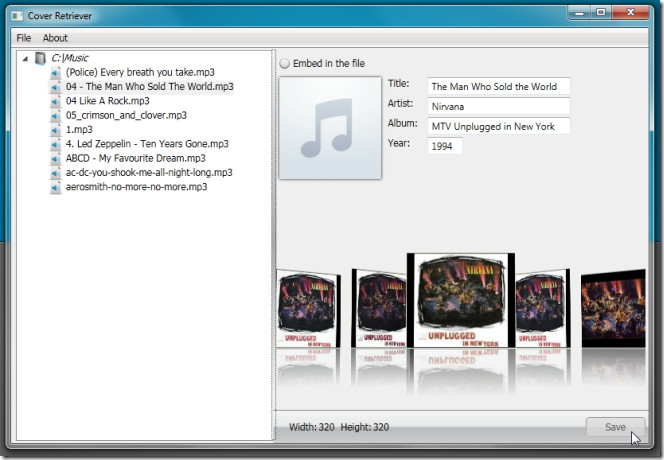 When you enable Embed in the file option, a new option namely Apply to all in the directory appears alongside. Enabling this option will add the selected cover art into all files of album folder.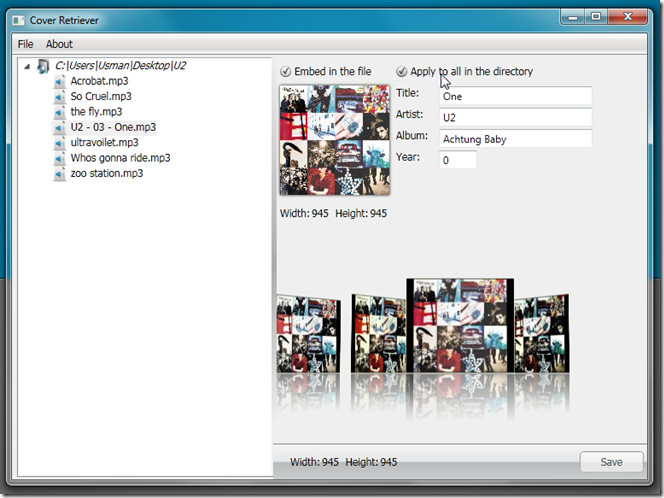 Once you've added the cover arts, verify them by playing tracks in any desktop media player. Cover Retriever also allows changing meta tag information of the track. Since it reads meta tag to fetch and download the respective album cover for the song, you may need to fix meta tag information of songs before fetching album covers from online sources. Cover Retriever is an open source application that works on Windows XP, Windows Vista, and Windows 7.