Create And Categorize Jump List Items With Seven Jump
Windows 7 jump list is one great productivity enhancement feature which lets you quickly access options, associated tasks, and recently opened items of applications pinned in taskbar (also known as Superbar). Seven Jump is a nifty little addition to Windows jumplist feature that is written to extends its function and revitalizes it to offer customizability. It allows you to gain complete control over jumplist by letting you manipulate and design new jumplists to access a list of selected programs. The application working mechanism is based on creating a category under which applications, shortcuts, files, folders can be added, and finally adding it in a jumplist, as developer himself exhibited the usage by creating a category of all Adobe products in a jump list for accessing them easily.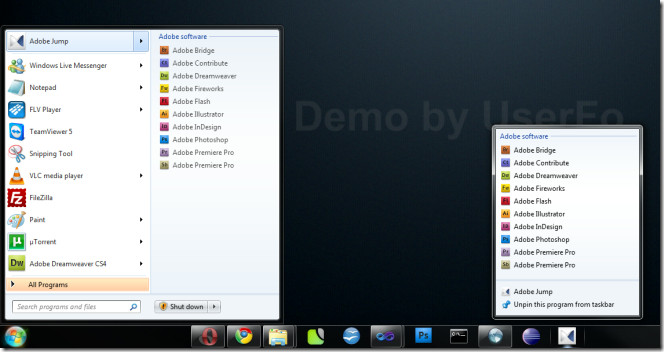 Furthermore, it lets you create multiple categories, so you can group all the applications in different categories to place them in single jump list as well. The application can be used in two ways – one simple way is to place all the files, and application in a folder and then launch the main application executable file – Jump.exe, the other way is to launch the JumpStart console (residing in installation package) for creating categories.
To start, launch JumpStart and specify the folder where you want to save Seven Jump files, once selected, click OK to enter Jumplist Name and Jumplist Icon followed by Create Shortcut button.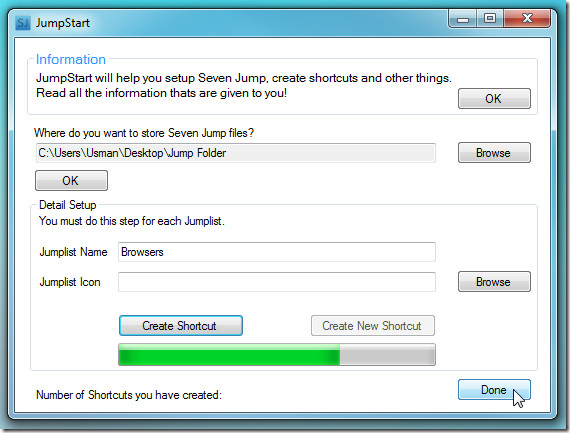 Now you need to launch the main application executable file – Jump. Set up jump list configurations and then create a category.

The first step is to enter the name of category which will hold all your applications, files, and shorcuts. Once added, head over to Jumplist tab.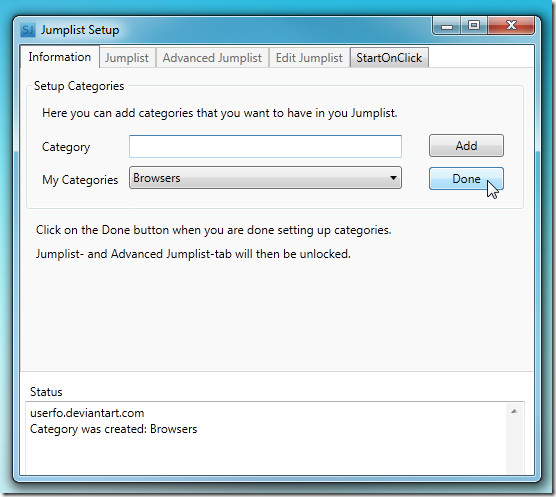 Here, specify the applications which are to be added into jump list items. Once done, click Create Jumplist to let it create a jump list. Next to Jumplist tab, there are tabs to add applications in an advanced mode (you can specify application's icon and start arguments) and edit existing jump lists.
The StartOnClick tab refers to selecting a program which will trigger the launch of Seven Jump application.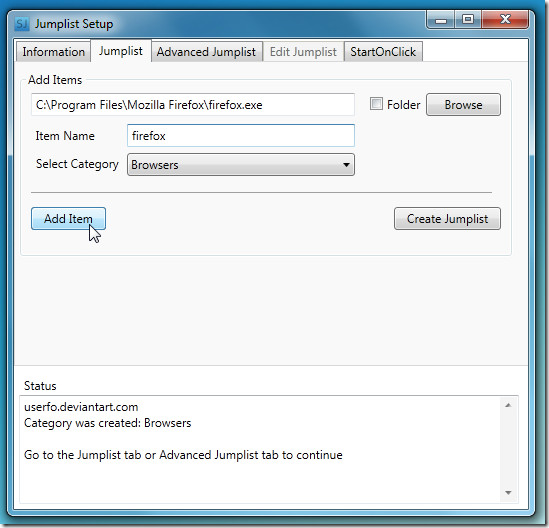 Once you've added all the applications in specified category. you will see them listed in jumplist under defined category.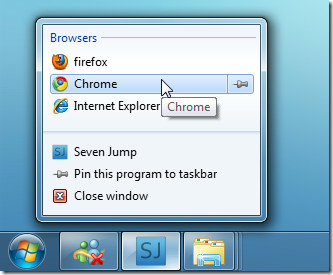 The application is in pre-alpha phase. We did encounter some bugs, but hopefully all the bugs and exceptions (that it throws) will get fixed in next release. Testing was done on Windows 7 x86 system. The only pre-req to run the application is Microsoft .NET Framework 4.
For more, also check out Jumplist Launcher – an application which supports drag & drop behavior to populate Windows 7 jumplist.