Create And Embed Skype Signature On Your Web Page
Developers, Authors, Webmasters, and everyone else who wants to connect with their clients and customers can now add a Skype Signature on their website or forum. Skype being a popular VoIP client is used by more than 300 million users worldwide, thus adding a signature makes sense.
Skype Signature Creator is a simple desktop tool which helps in generating a eye-candy embed code. There are a total of five status images to choose from. You just have to enter the Skype username, choose a signature image, and hit Generate code.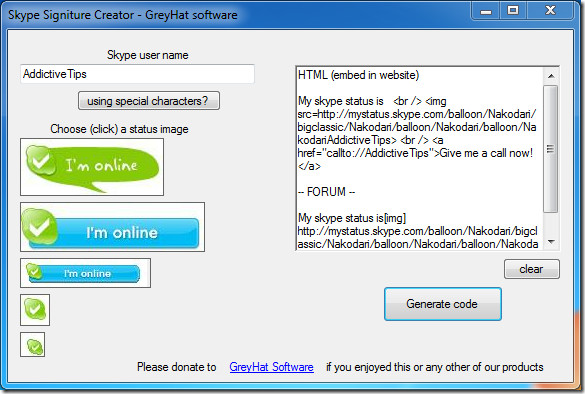 There are two codes generated, one for embedding in a website and the other to embed in the forum. The codes are dynamic and will change depending on your status, online or offline.
It works on all versions of Windows from 2000 and above, including the latest Windows 7. It requires .NET 3.5 Framework to run.
Download Skype Signature Creator