Create Awesome jQuery Image Sliders With Wow Slider
Wow Slider is a free tool for creating awesome jQuery image sliders with fancy templates which are cross-browser compatible. It not only offers seamless way to design custom sliding carousels but let users change almost every possible aspect of the sliders being made, be it image settings, animation style, panel height/width, navigation buttons, and so on, you just have to specify the input values in available input forms to design an intriguing carousel for your website.
The very first thing you will notice is its nicely designed interface. In main window, just drag & drop pictures that you want to include in a sliding panel. While allowing importing of images, it also offers direct selection from Flickr. The first thing you can do is to hyperlink included images, click a picture and from status bar paste the web link. Regardless of what sequence it followed while importing images, you can always re-order the images by clicking Up/Down buttons in toolbar.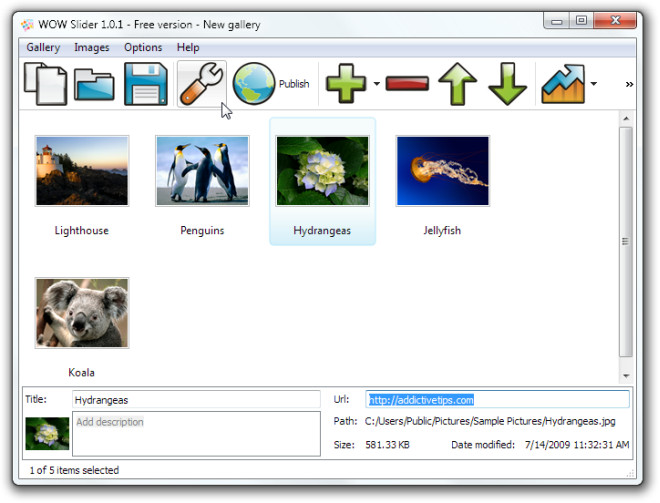 The second part is to configure photo panel, which is non-imperative, therefore you can leave this part if you want to quickly publish the slider to your website. Nonetheless, if you need to change the animation styles, panel height, transition effects along with duration, click Settings button.
From General settings, you can enter slider title, and enable/disable slider-specific options like auto-play, show description, bullet navigation (navigation buttons), etc. Under Images window, you will find a great deal of image-related options to tweak with. It offers you 6 beautifully crafted templates which you can apply over yours slider. Adjacent to it, image parameters including size, quality and transition effect can be entered. Underneath these parameters, you can enter time interval to insert delay between slides and effects.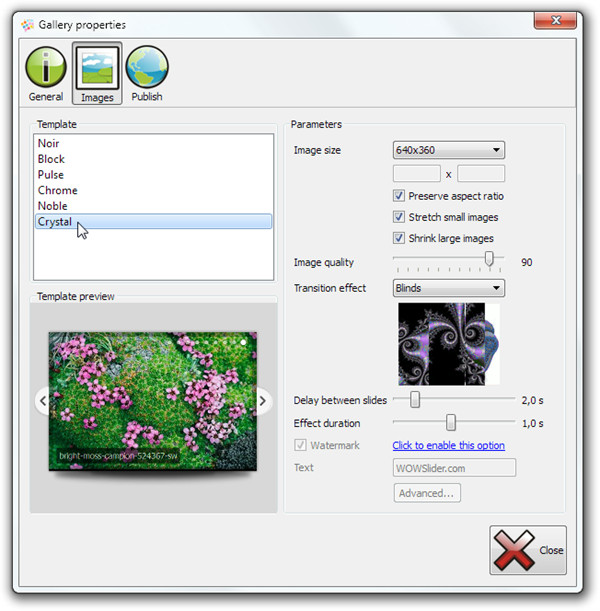 Once you've done tweaking up image settings, head over to Publish window to either upload slider directly to FTP server or publish it offline on specified local location (for testing).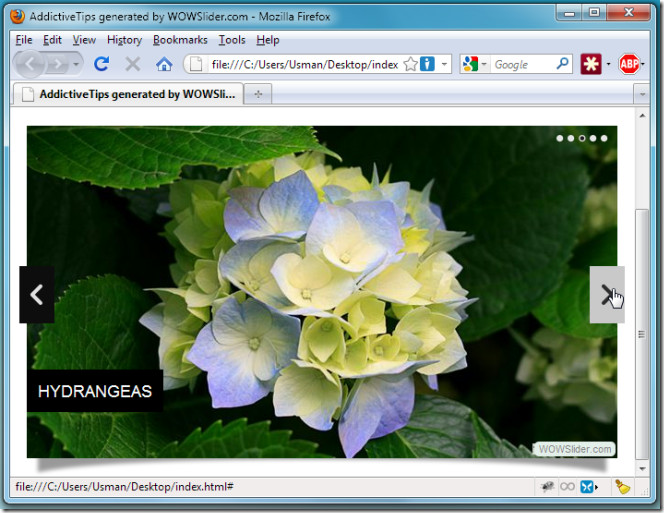 Since every application has some rough edges and catches, the free version places a small watermark at the bottom-right corner. The paid version (which costs $49) removes the watermark  and comes without having any strings attached. Wow Slider is available for both Windows and Mac. Testing was done on Windows 7 x64 system.