Create Barcodes & QR Codes For Free With BarCode Generator
While the use of barcodes was started decades ago, they have now become an integral part of any product, both tangible and intangible goods. Head over to any local store and you'd see products of every kind containing a barcode. They are basically called as UPCs (Univeral Product Code). Barcodes are machine-readable data encoded images that contain miscellaneous information related to an item, which is scanned through special scanner equipment. A barcode can contain any type of data, ranging from the price of an item to the download link of a song. Barcodes are now being used a lot on the internet in the form of QR codes, to distribute links among users. You might have seen their usage in various forum and to download Android apps. If you needed a software create your own barcodes then it looks like today is your lucky day. BarCode Generator is an application that is able to generate and export barcodes into images. It supports PNG, JPG, TIFF and GIF output formats, and almost all 1D and 2D barcode types can be created using this application, including Codebar, Code 39, EAN-8, Bookland, DataMatirx, QR Code etc. Keep reading for pertaining details.
The interface has Symbology list at the left, while options to edit the barcode are available to the right. To start, first select the barcode type from the Symbology list. The list contains an umpteen number of codes. Then, under General tab on the right, specify basic barcode options, such as, enter required link in Value, choose Additional Text, select Margins, Bar height, Narrow bar width and Quite Zones etc. There are also some Advanced symbology options.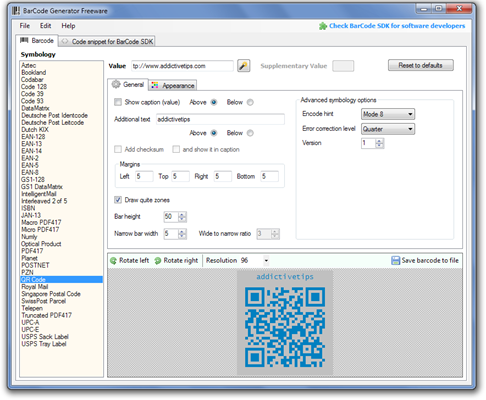 To change appearance of the barcode, click Appearance tab at the top. It allows you to specify Background Color, Foreground Color, Caption Font, Additional Caption font, Smoothing Mode and Text Rendering.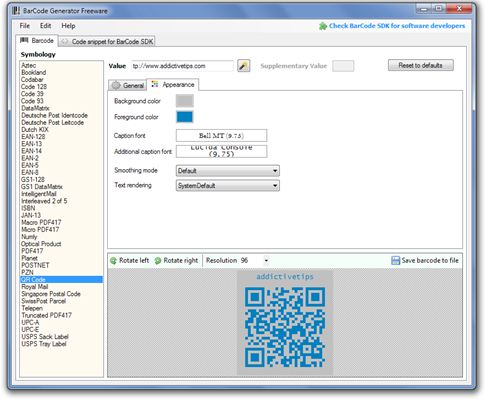 All the changes will be viewable in the preview pane at the bottom. You can rotate the barcode image left or right and change its resolution. When all configurations are done, click Save barcode to file to save the image. Using BarCode Generator, we generated a QR code with the homepage of Addictive Tips as the infused link.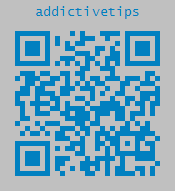 Although we have covered other barcode applications in the past, BarCode Generator simply is better. Its quite robust and easy to use, and lets you create barcodes within a few clicks. It works on Windows XP, Windows Vista and Windows 7.