Create Custom Color Chart, Blend Color Shades & Copy HTML Hex Value Using Color Warlock
In the past, we have featured numerous color picking tools for both Windows and Mac OS X platforms, including ColorUtility, Instant Color Picker, Just Color Picker, Gradient, Pick, Color Picker Pro. The color picking tools are built to help graphic designers pick the required color shade off the screen and use in their projects. One of the most common feature of color pickers is copy HEX value of selected color, which lets users quickly use the color in stylesheet documents, such as CSS. Today, we have another color picking tool for you, called Color Warlock. The application lets you easily create custom color charts to assist you in picking required range of color shades. It provides you with a number of color charts, which not only allow you to choose the color shade, but also copy the color code (HTML Hex value) or color name with a click. Read past the break for more details.
You can use the built in Chart Builder to create custom color charts and share with others. The color charts are built in CCF format, which can be easily modified using a simple text editor. Color Warlock comes with a total of 5 color charts namely All Know Colors, System Colors, Non-System Colors, MS Office Colors, and Web-Safe Colors. Using these color charts, you can easily pick the color shades you want to use in your design. As mentioned earlier, it allows creating custom color charts, you can also copy the color codes from built-in color charts to quickly create a color sheet of most frequently used colors.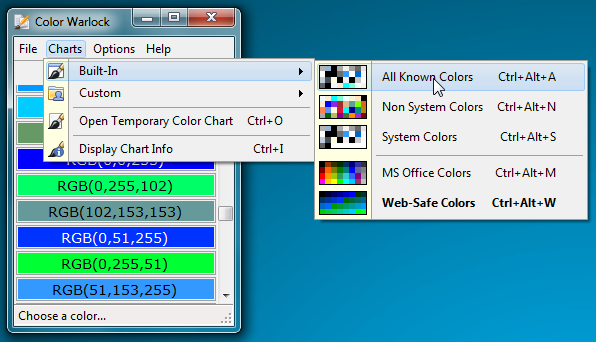 By default, it doesn't show color codes with listed colors, but you can enable this feature from Option menu. Just select Display HTML Hex Colors or use Ctrl+H hotkey combination to display colors codes with colors. From Option menu, you can also apply different border styles over colors, sort color order, and list colors from current color chart into 1-5 columns.
In order to copy color code, just click the color, and it will copy the color code to clipboard. However, the application also supports changing this behavior; you can choose to copy the color name, Hex value with or without #, and RGB value. Moreover, it also lets you specify the mouse button you want to use for copying color codes.

You can access custom chart builder from File menu. The Chart Builder provides you with a multitude of options for choosing colors that you want to save in your color sheet. It presents 3 tabs namely Basic, Screen and Blend for picking the required color shades. The Basic tabs offers RGB slider that helps you create a mix of red, green and blue colors. Alternatively, you can choose color name from drop-down menu present underneath the RGB slider. You can also enter HEX or RBG value to add the color to the list.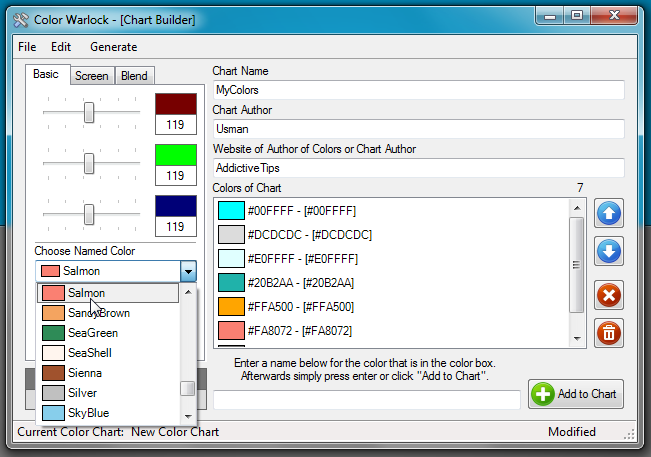 The Screen tab presents a crosshairs image tool that helps you choose different shades of black and white. Under Blend tab, you can create a blend of two specified colors. It shows all the shades of the mixed colors, allowing you to choose the required color.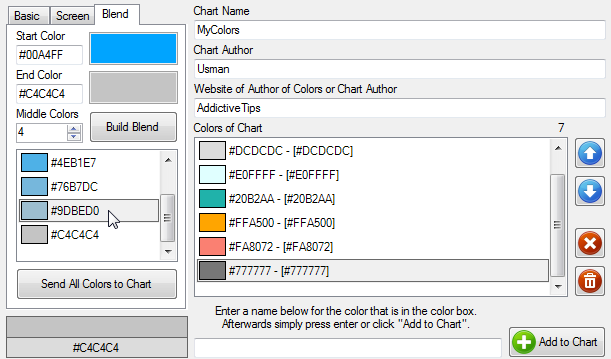 Once you've created a custom chart, don't forget to save the chart. Move to File menu and select Save Color Chart to export the color sheet to CCF file. It must be noted that you don't need the application to edit color chart, as CCF can be edited using a text editor, like Windows Notepad.
Color Warlock will surely assist you in picking desired shades of colors. If you often find it hard to choose colors for your graphic design projects, we recommend giving this application a shot. It supports Windows XP, Windows Vista and Windows 7.