Create A Grid Of Custom Windows 8 Start Screen Tiles Out Of Any Image
A lot of us have condemned the usage of Start Screen, which has pretty much dominated the Windows 8 UI, although, sooner or later, we will have to embrace it anyway. Start Screen lets you pin apps, folders, webpages and other items right up front, for quick and easy access. Items that are pinned on the Start Screen appear as tiles – both static and dynamic – depending on the tile's nature, which you may rearrange and even categorize in groups. To me, Start Screen has brought that svelte feel to the OS itself, since I always fancied the same look on Windows Phone devices. However, there is no way to add custom tiles to it for, well, any particular aesthetic reasons. Custom Tiles Maker (available at Windows Store) is a slick new app that allows you to create custom tile grids. You can create various tile arrangements from your favorite images, and pin these tiles to the Start Screen.
Since it's a Modern UI app, you can only install it from Windows Store – the exclusive Windows 8 apps marketplace. To download the Custom Tiles Maker, simply head over to the Windows Store and type its name in the search field of Charms Bar and press enter. After the search results are displayed, you can access the app's in-store page.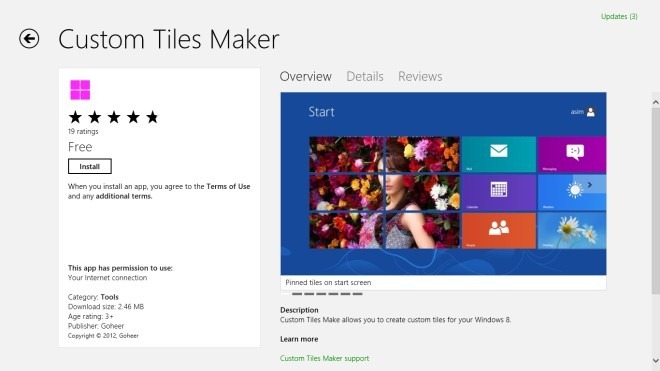 The application seems very lightweight and comprises of only a few different options. It has a plain white background, so don't expect any snazzy colors. Akin to other Modern UI styled apps, it runs in full-screen mode. Creating a new tile grid isn't much more than following four simple steps. To get started, click Select Photo on the main screen.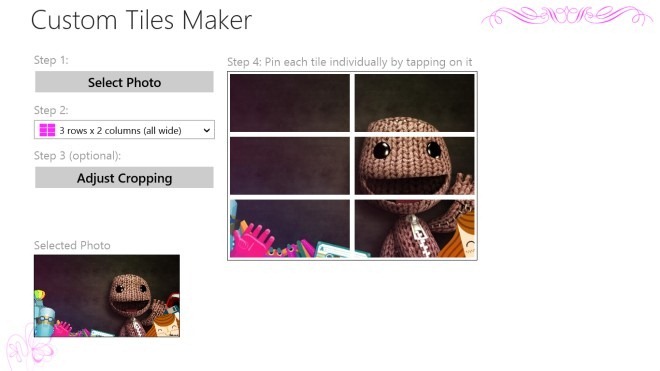 Custom Tiles Maker automatically scans and recognizes the image directories on your machine. You may easily browse to the target location, and after selecting the image, click Open to add it into the app.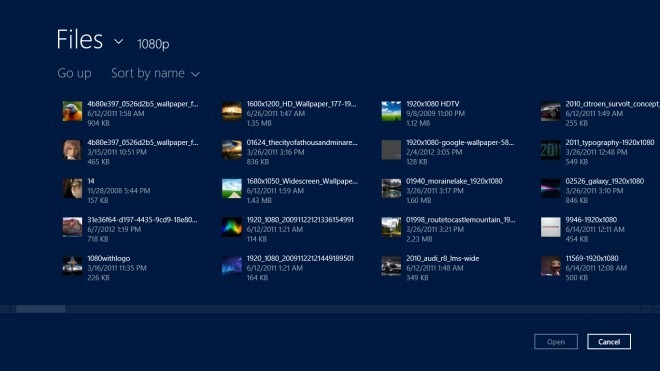 Tiles can be arranged in distinct patterns. The drop-down menu under Step 2 houses a number of tile dimensions and arrangements, both in square and wide designs. You may also click Adjust Cropping to drag the image to your preferred position, which helps in bringing your desired area into focus. Once configured, click each tile to pin it to the Start Screen.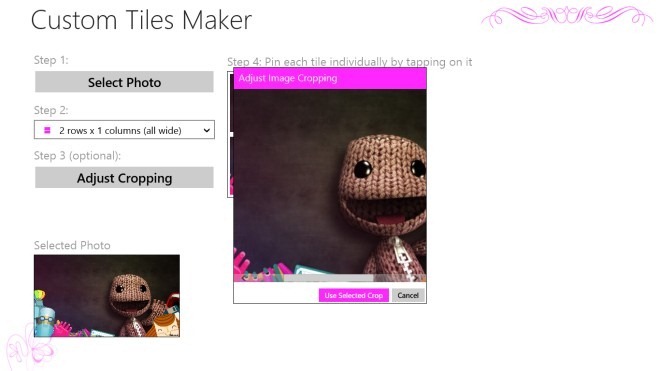 Take a look at the screenshot below to see how the final result appears on the Start Screen.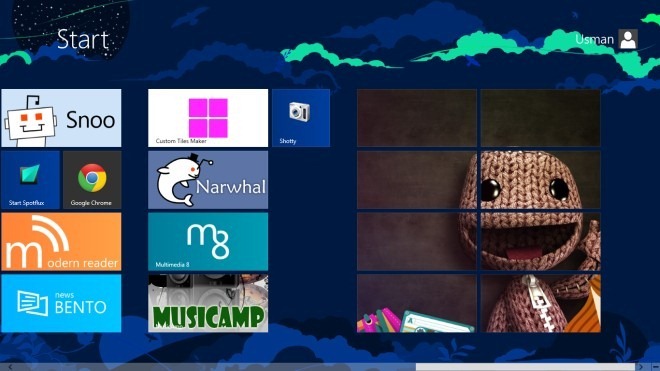 All in all, Customer Tiles Maker is a great application, apart from two major downsides that we noticed. First, it doesn't allow you to launch custom apps when clicking a particular tile. Secondly, you have to click each tile separately to pin it to the Start Screen. The application works only on Windows 8.