Create Customized System Tray Pop-Up Reminder With Notifu
Remember previously covered reminder called, msgboxmkr, which lets you notify yourself about important tasks that are to performed when you logon to Windows? It throws a message box on the screen having customized text to remind users about the tasks they might forget to perform within given timeline. Notifu is a highly customizable, open source application that provides somewhat similar functionality, allowing you to create a customized balloon message which pops-up everytime you log onto Windows. Instead of providing GUI based configuration console, it allows changing message text and other settings from Windows CLI. You can create a batch script file (BAT) to specify configurations and text message without having to open Windows CMD.
Notifu uses iUserNotification module to display pop-up balloon, and thus, can be customized in numerous ways. In download package, you have executable files, namely, notifu and notifu64, which when run shows the way of writing the pop-up balloon script.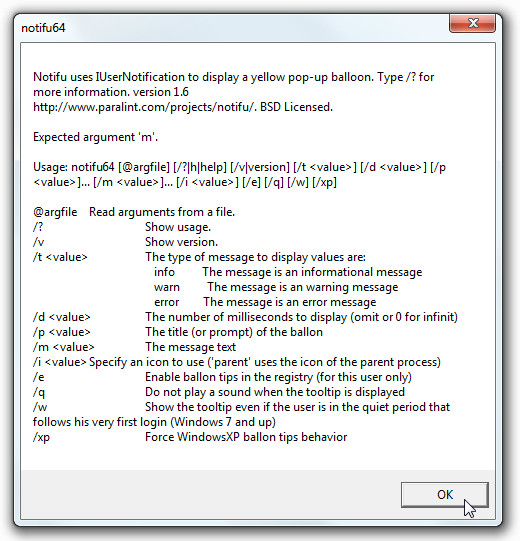 However, if you're not comfortable writing a script file, you can always edit the Sample.bat file in text editor to quickly design a custom pop-up balloon.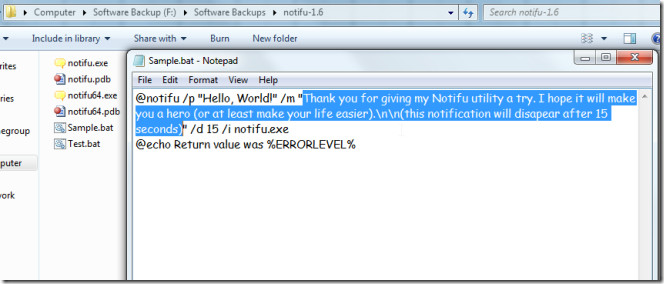 Don't forget to change the first text string enclosed quotation marks that represents title of the reminder. Once done, save the BAT file and verify the script run.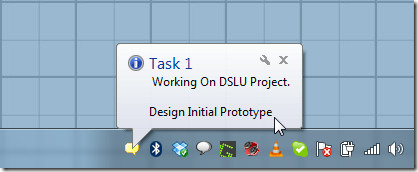 You can create your BAT script file's shortcut in Windows Startup folder to run it everytime you logon to Windows. If you're looking for a more easier way to create customized pop-up balloon message, check out previously featured NotifyMe.
It works on Windows XP, Windows Vista, and Windows 7. Versions for both 32-bit and 64-bit OS editions are available. To learn more about its implementation, features and usage, head over to product page by hitting up the link below.