Movies By CraigWorks – Create Database And Stream Movies Remotely
Movies by CraigWorks is a browser based application for organizing movie collections and creating a custom movie database with information obtained from sources such as IMDB, Rotten Tomatoes, Yahoo Movies, etc. Movies by CragWorks provides VLC integration and iPad support. The former allows you to integrate movie information with files on the hard drive, to play them in a click using VLC Player. The Remote Support feature provides a handy utility of playing movies in one location and remotely viewing them from another, which means that you can play a movie on your PC at home and watch it in a separate location (provided you have internet connectivity). All movies that are added to the database include complete movie, cast, crew and related information with related pictures. Other than movies, you can also create a database for your favorite TV shows.
Installation of this app is a bit tricky and therefore requires some explanation. Before installing Movies by CragWorks, make sure you have Java JRE 1.6+. Once the setup is downloaded, extract the files to a location where you wish to create the movie database (e.g. C:\Movies) and run the start.bat file from the Bin folder.Then open a web browser and enter the URL https://localhost/CraigWorks/movies. This will take you to home page. To access the system from a remote computer, replace localhost with the name of the computer running the application (i.e. https://mycomputername/CraigWorks/movies).
Once done, just click Add, enter a movie name and year, and click Import. This will fetch movie data and populate the tabs with relevant information. To save the information to database, click Save.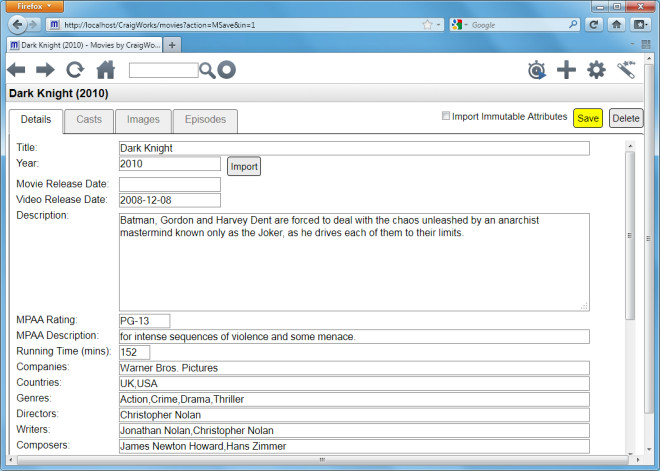 Before saving the information, you can optionally edit movie details, cast, images, etc. To add your own images to the database, go to the Images tab and import the image(s) from Browse. You can also remove images by checking the Delete button before saving the database.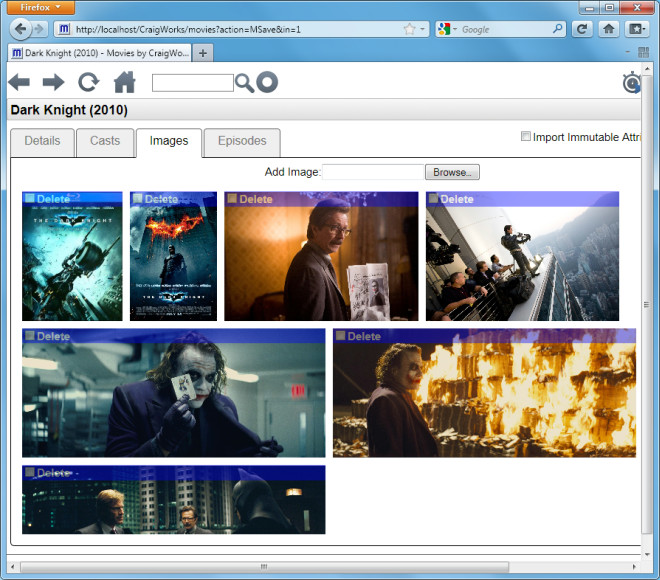 To associate a movie with the selected title, go to the Episodes tab and select the respective file and category. High quality files can be added in the Blue-Ray option, whereas, others can be associated with the DVD category. I must admit that while other options work fine, this feature does have some issues and there can be a bit of problem when adding a movie or TV series Episodes to associate them with the database.

To configure VLC or iPad options, go to Settings menu from the top of interface and select your desired options. For instance, you can enable Blu-Ray cache, set a default volume when movies are played and so on. To play files to iPad, they will require being transcoded in real-time before they can be played, make sure you enable Segment Transcode option and configure other features such as audio gain, stream quality, etc to play videos on iPad.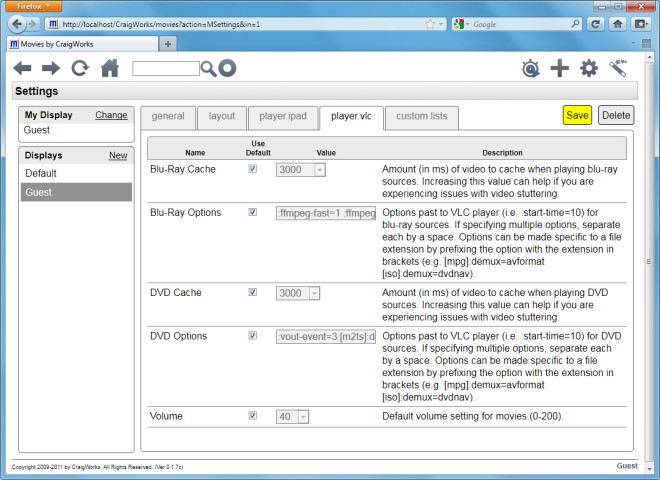 Once your database in created, click on any video from the home page to play it in VLC player (provided it is associated with a relevant file). Hovering your mouse over an image will display Rotten Tomato ratings, synopsis and other information in a pop-up window.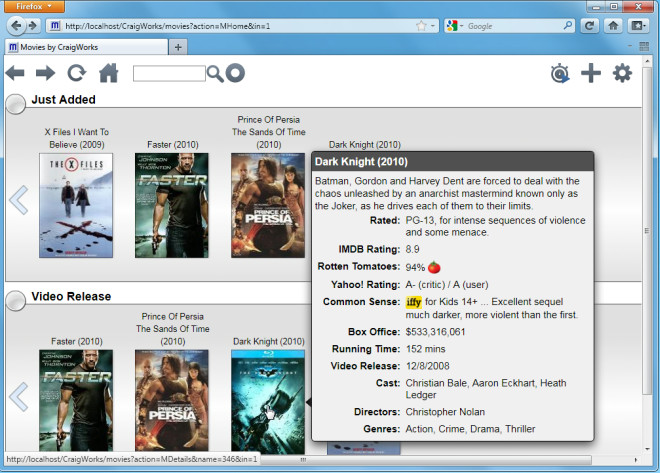 You can access all details from your database with complete movie, cast and associated information.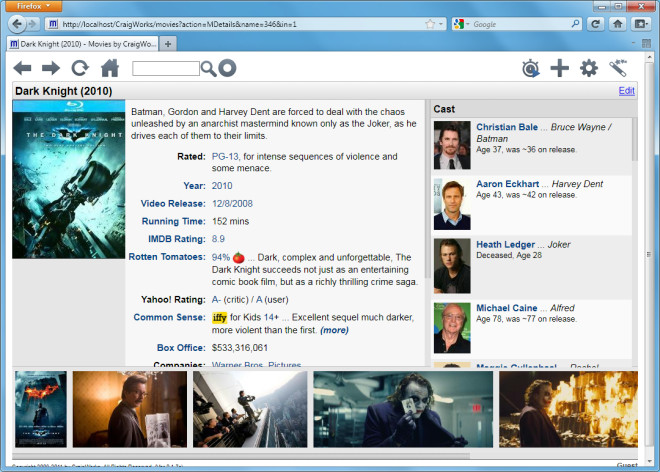 Despite being a reasonably good app, it still has a few areas which need work. For starters, the installation procedure requires being simplified, associating files with the database needs some work, to make it functional enough, the database is not saved in proper categories offline and needs internet access for the browser to display it in proper categories. We hope the developer will fix these issue shortly. For those of you who would prefer an app which creates a categorized offline database can check out Movie Monkey.
Movies by CraigWorks works on Windows XP, Windows Vista and Windows 7.