CodeTwo NetCalendars: Create Group Calendar To Let Network Users Collaborate On Tasks
Need to share details of office appointments, events, meetings and work schedule with your team members but don't want the fuss of having to manually manage and update each event? CodeTwo NetCalendars is an application to streamline the management of office appointments, events and schedules that you want to share with others. It lets you create a group calendar, which can be accessed by your team members connected on network. Not only can you share the calendar with others, but you can also allow your team to work on it at the same time. Once the calendar is shared on network, users can access it, make changes to events, create new events and update the existing appointments. It automatically syncs all the changes made to calendars, so that you won't have to manually open the calendar from shared location to view the latest event details.
You need to install the application on all the PCs in network which are to be used to create and share calendar events. First off, install it on main PC. After installation, click add Calendar on toolbar to create a new calendar at required location.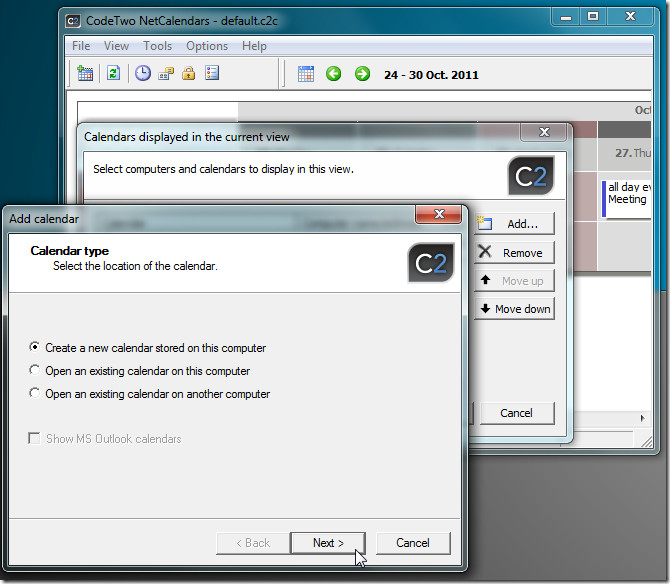 Once created, add the appointments by double-clicking the calendar day sections. It asks you to enter appointment Subject, Location, Start and End time, Reminder time interval, and appointment notes. Now, click Save and Close to add the appointment on selected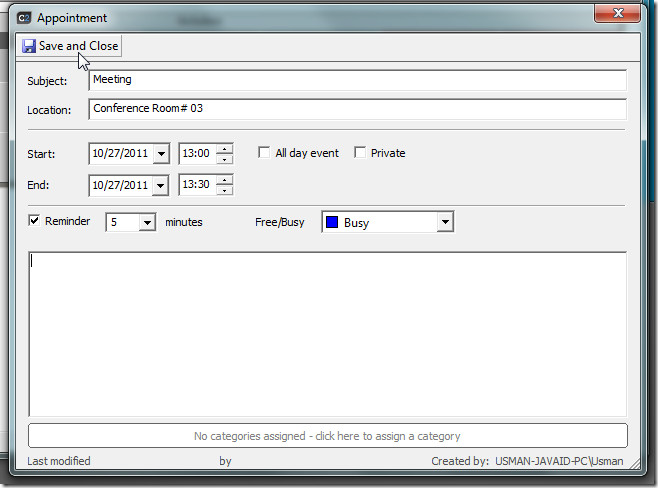 Similarly, you can add as many appointments as you want to your calendar. When you want to access and share the calendar across the network, install the applications on the PCs. Once installed, add calendar from toolbar and select Open an existing calendar on another computer option from Add Calendar dialog. Now, select the user whose calendar is to be accessed and then choose either Guest, Active Directory user or Other user type (username and password required) option to add the selected user's calendar that you want to access.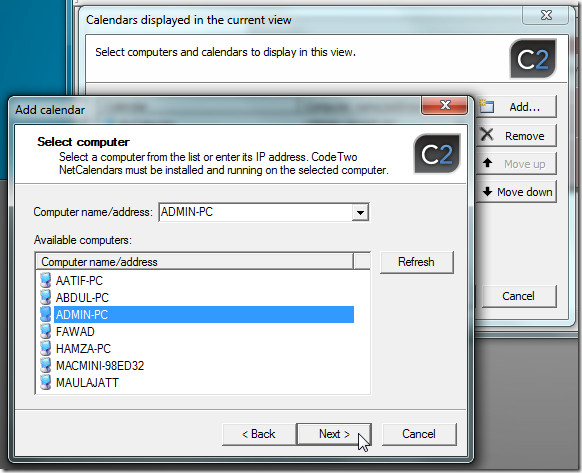 Once done, it will add the calendar to the list. CodeTwo NetCalendars syncs all calendars in real-time to let you quickly view the latest events.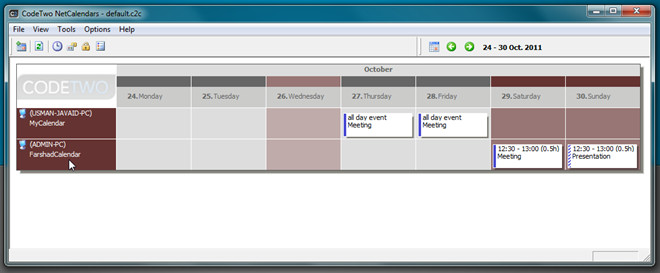 The application also lets you connect internet users to collaborate on appointments and tasks. It requires username and password of internet users in order to establish connection. Once connected, internet users can share, access and edit the appointments. To allow access, open Access Rights Manager from toolbar, switch to List of users tab to add internet users. After adding users, you can change their access rights including read, edit, delete, and create entries.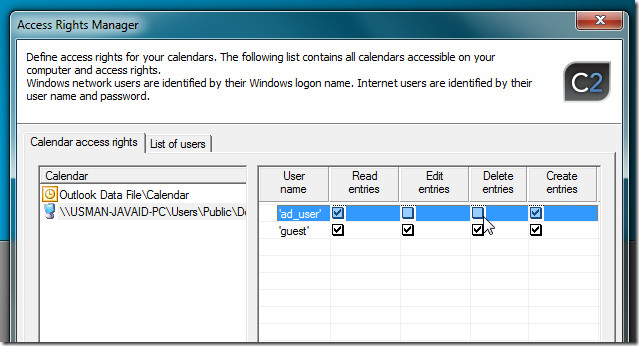 CodeTwo NetCalendar has made it easy to share appointments with not only network users, but also with users connected with internet. If you want to access and share Outlook calendar across the network, check out previously reviewed CodeTwo Outlook Sync.
CodeTwo NetCalendars works on Windows XP, Windows Vista and Windows 7. Versions for both 32-bit and 64-bit OS editions are available.