Create HQ Photobooks With Windows Live Photo Gallery Inkubook Plugin
Inkubook is a great new addition to Windows Live Photo Gallery that will give you a breezing experience of creating professional HQ photo books. Since Windows Live Photo Gallery is the one of the best platform to share photos and videos with friends and family, Inkubook being a Windows Live Photo Gallery plug-in offers the very same way to create aesthetic photo books and share them without much effort involved. Adding more, it offers a huge gallery for themes and layouts to make your photo collection more appealing and memorable. As far as the user experience goes, usage is pretty simple, you just need to specify a bunch of photos to create a photo book and rest it handles smartly.
After the plug-in is installed, you will find it under Create tab in Publish group. Just select the images which you wish to create an aesthetic photo book for and click Inkubook to bring up its window.

At the top lane, you have pull-down menus for theme, layout and size of book, click drop-down button to select one from respective menu, it offers a wide range of beautiful themes and layouts which you further customize according to your needs. Sizes are also available in great number, it offers a live preview of changes you've made to the default book, so you can switch between themes and layouts to choose the best among the list. Once you've made selections, navigate through the book by clicking the navigation controls lying in the bottom. Once done, click Upload to Inkubook & Customize button to sign in (in case you' don't have an account, register an account).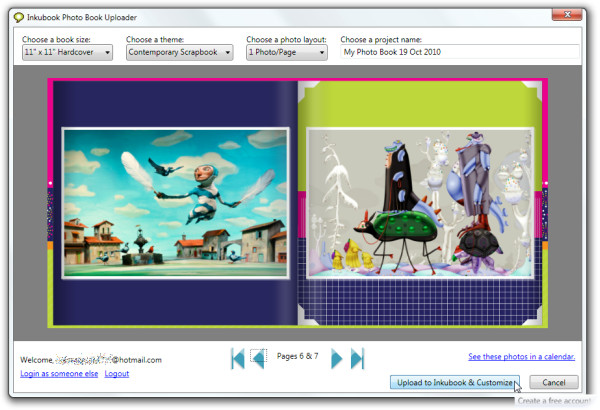 It will instantly start uploading the photo book to its server and lead you to web application for doing more customization and editing. Here you will find an extensive list of tools with various options to customize the overall outlook of your photo book, you can change every bit of it from Photos, Layouts, Backgrounds, and Text tabs. Furthermore, you can upload a text file to paste a note in photo book anywhere. From the bottom of the window, you can add/delete pages, and jump to different sections of the book.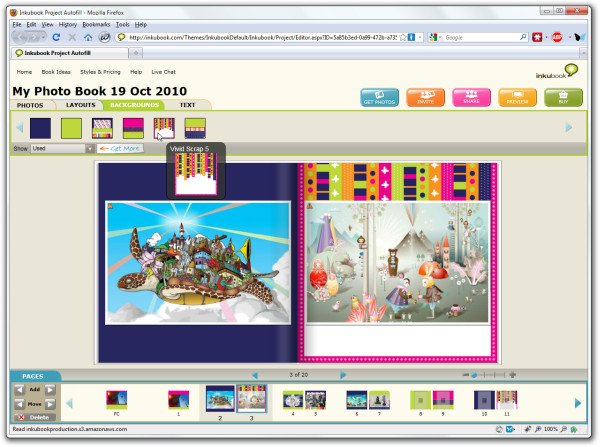 Once you've edited the book, click buy to enter details for getting the printed copy. On the product page, you will find usage walk-through videos, which show different book editions, book covers and some hard-copies of Inkubook photo books.
The plug-in was tested on Windows Live Photo Gallery 2011 running on Windows 7 x86 system.