Create Image & Video Slideshows With Narration Using ezvid
Slideshows are a great way to display, as well as share pictures with others. You must have seen hundreds of videos on YouTube containing a picture slide with some cool music track in the background. Previously, we have covered some great slideshow creators, including Slideshow Creator and PhotoPixar which allow you to create video slideshows of photo albums in minutes with effects, audio tracks and captions. However, they lack the options to control the time an image appears in the slideshow, and are not capable of including videos in your creation. This is where our new find, ezvid, comes in. It is a slideshow creating tool for Windows that allows you to generate slideshows from images and videos, put an audio track in the background and record narration over it. It also allows you to increase or decrease the time each image appears on the screen before switching to the next one. You may add a text tile and upload the slideshow to YouTube directly from the application.
ezvid is aimed at people who want to make fun videos. It does not have a lot of options for the same reason, but allows you to adjust some basic settings for the images.
To add images to the interface, select add pictures or video from the right side and navigate to the required images. All the images will be added in the media pane. Then, select a Title,  Description, Song, Keyword and Category for the slideshow. To preview the slideshow, click the Play button above the media pane. The microphone at the right-end of the audio pane allows you to record your voice over the audio track. Whereever you record your voice in the video, the music level lowers down automatically.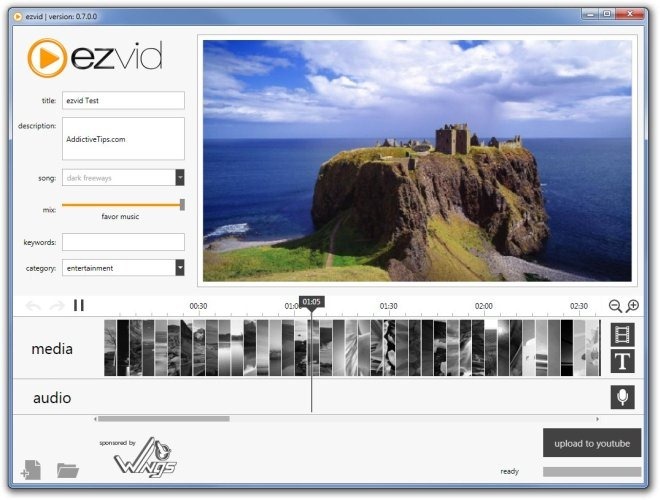 To increase or decrease the time for an image in the slideshow, left click it and drag its edges. Right-clicking the image allows you to Delete, Duplicate or toggle Pan and Zoom effect for the selected image. When the slideshow is complete, select Upload to YouTube from the right bottom corner to directly throw it onto the online video portal.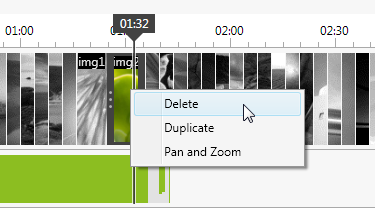 The application doesn't allow you to add custom audio tracks to the slideshow. The reason for this given by the developer is that, since the application is designed to work with YouTube, using commercially released tracks exposes you to Copyright Infringement. ezvid works on Windows XP, Windows Vista, Windows 7 and Windows 8.