Create, Manage & Backup Windows Hosts File With Hosts File Generator
Some malware programs attempt to modify, remove or simple empty Windows hosts file. After gaining access to Windows hosts file, such malicious applications/scripts try to bypass those blocked websites which provide a gateway for other rootkit applications/scripts to gain and exploit root access of your system. For those who are not familiar with Windows hosts, it's a small file in Windows system which can be used to block access to comprised websites and to give relatively quicker access to frequently visited websites and local domains; you can map as many IPs with their domain names as you want in hosts file. Hosts File Generator is an application written to automatically create hosts file when viruses and malwares have blocked your access to System32 folder or have deliberately removed or altered Windows hosts file.
By default, the application provides you with 3 options; Create Hosts File, Create Backup, and access Advance Settings. The first and second option lets you create a new hosts file and create backup of current hosts file while the third option lets you first modify the hosts file and then allow saving it to default location.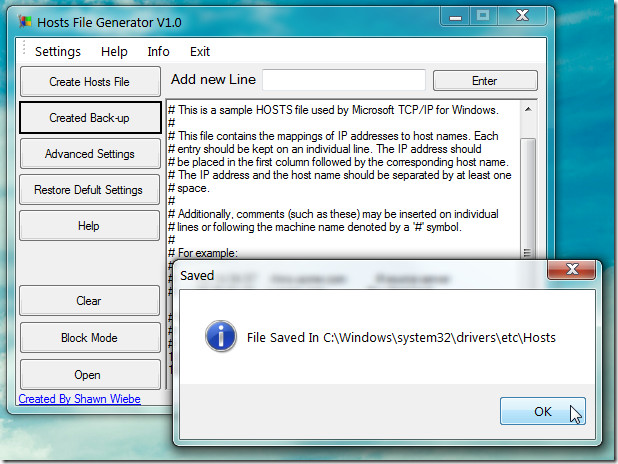 In Advanced Settings window, you can quickly block potentially harmful websites by entering their complete URL addresses. In Add new Line, input the website address and hit Enter to block it right away.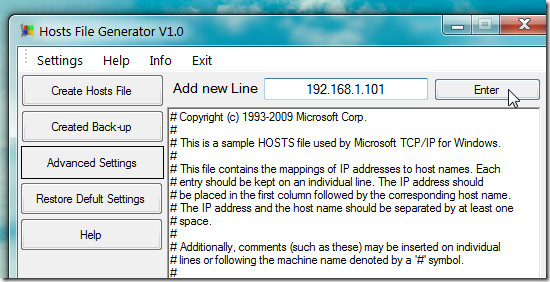 After you've made changes to hosts file, click Save to replace the default hosts file with modified one. It's recommended to create backup of hosts file after saving them, so you can quickly restore them whenever required.
Hosts File Generator is a portable application that works on Windows XP, Windows Vista, and Windows 7.