Create And Manage Smart Clipboard Collection With Clipboard Master
We have previously covered handful of clipboard managers, such as, ClipCycle, Get Plain Text, and Clippy, comparatively the latter being the best out of lot, as it offers both management and usage of clipboard items including text, images, URL, etc., from system notification area. Clipboard Master is another useful clipboard manager which brings a new concept of collecting clipboard items. Despite being merely a simple clipboard manager, it also allows you to save frequently used mail/letter salutations, HTML links, date/time stamps, so you don't need to access or write them manually.
Like an efficient manager, it sits in the system-tray after the installation, a right-click on its icon reveals all the options to manage the items or to create new HTML links, salutation text, etc. The whole usage can be regulated by hotkeys, running it for the first time prompts you to register hotkeys and configure text-related paste options.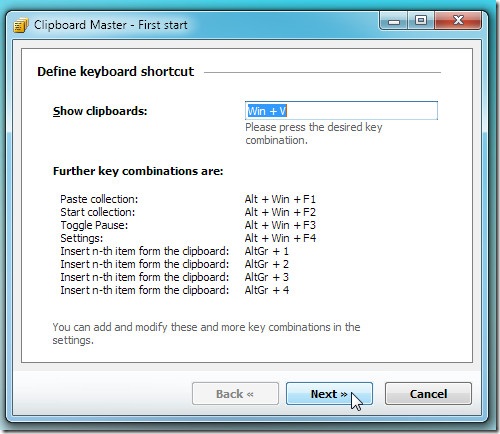 In installation wizard, you will also get to view all the default registered hotkeys, however, hotkeys combinations can be changed from system-tray menu.
The clipboard items can be accessed from the Clipboard sub-menu, whether you've saved text, links, application shortcuts or files/folders, you can access any of them from its clipboard archive.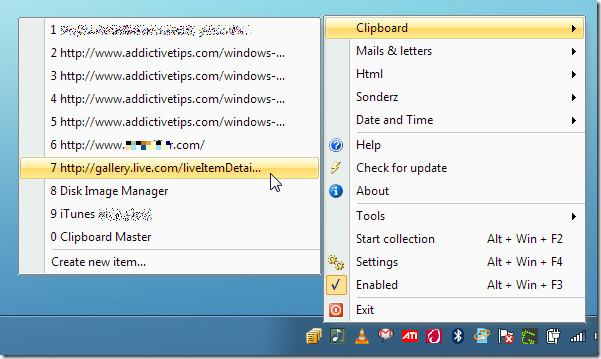 Beneath Clipboard, Mail & letters, Html, and Date and Time menus are listed, containing all the relevant items with an option to create a new item in respective sub-menu.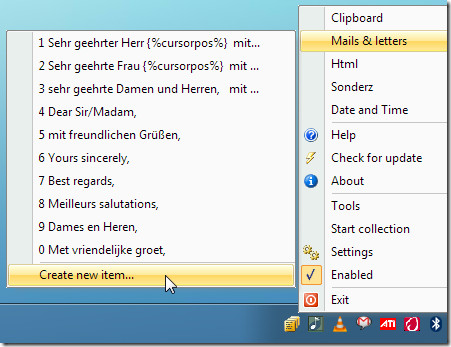 The clipboard items collection can be started from either system-tray menu or by using the designated hotkey combination. Once started, you can also pause collecting data to save only required items in the list. Apart from some interface-specific problems, it provides primary functionality without showing any bugs. Testing was done on Windows 7 x64 system while it supports Windows XP/Vista/7.