Create & Manage Password Protected Post-It Notes With Secret Notes
When the Post-it Notes were first developed in 1968 by 3M, they failed to catch anyone's attention, and took some good years (and i literally mean good) to make their mark. Years after years passed, and finally, their success came to prominence. Now its a time when Post-it Notes have become a must-have item for every office and workplace. Apart from tangible sticky notes, they have made their way to PCs as well. When Windows Vista came out, amongst all its flaws and debatable issues, there was an awesome app called Sticky Notes, imitating the Post-it Notes in the virtual workspace. That brought the use of sticky notes to mainstream and now there are various third party tool available that provide the very same, in one way or the other. Sticky Notes come in very handy for noting down important information that you need to keep in front of you at all times. Have a meeting with boss early morning? Sticky note it. Don't want to miss doctor's appointment at 10 am? Again sticky it. Well, do you remember Memo? An app for Mac that lets you create memos on your desktop and password protect them. Secret Notes provides almost the same functionality on Windows, allowing you to create notes for noting down important information and locking them with a password. More on Secret Notes up ahead.
When you launch the application, it requires you to set a password, thought its for the first time only. It should be noted that the same password will be used to unlock the application whenever you start it.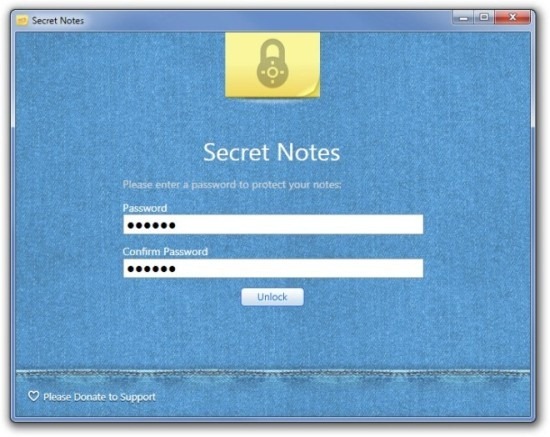 The editor consists of yellow background and looks similar to actual Post-it Note. It provides you with basic text editing options, such as Text Color, Undo, Redo, Bold, Italics and Underline. Click Save when you are done typing the required text.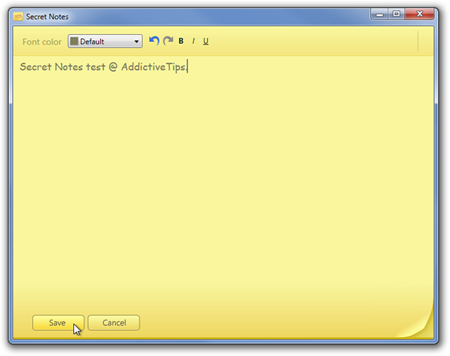 The main interface allows you to create new notes, delete old ones and lock the application to secure all the written notes. All the notes are easily accessible from this window, which looks to be comprise of blue denim pattern.
There is no doubt, Secret Notes is an extremely useful application, but a gadget for creating secured sticky notes and unlocking them directly from the desktop can do wonders for the app. It works on Windows XP, Windows Vista and Windows 7. We tested it on Window 7 Ultimate 64-bit operating system. Please let us know if the app was of any use.