Create Professional Help Manual With HelpNDoc
If you're working on some application development project, down the line, you might want to make a complete and detailed help document to make your audience understand the crux of the application, stating system requirements, help topics, troubleshooting issues & problems, and so on. Even though you can start out writing the help manual in any word processor and then publish it in PDF format for generic distribution. If convenience and professional way of creating help manual is required, HelpNDoc comes into play. It is one free tool which will greatly assist you in writing  professional help manual for your application without much effort involved.
The interface is quite spruced up providing all the little details you wouldn't afford to miss. Usage is pretty simple too, it comes with full-featured Word processor carrying all the options, features and tools which are essential for creating professional manual. For first time usage, it'll prompt you to create a new project to begin with. Enter an appropriate name of the project to start off with writing help manual.
You'll see basic options for the newly created project, which includes; General, Windows, HTML, and PDF settings. Under General Setting you can change project title, Copyright footer/header, default topic, font settings, etc. Under Windows options, you can change size and position, visible Buttons, and set navigation pane of the help manual you're creating. From HTML window, you can change header text, main content placeholder, footer, and TOC. Under PDF window, you can set Page Layout, Page Mode, Window position, set Compression level, enable encryption, etc. Once all settings are in place, move to main navigation pane to start writing the main document content.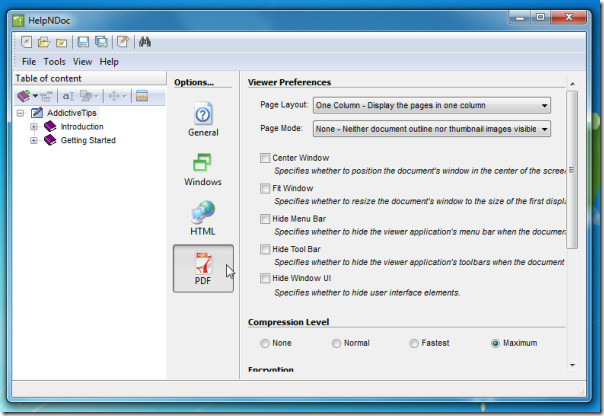 The main navigation bar holds all the basic elements of help manual, some of which are; Welcome, What's new, System requirements, Getting help, etc., however, you can always create a new topic or child topic of an existing one by right-clicking in the navigation bar and select an appropriate option. The feature-rich Word processor can be seen in the main window, it includes almost each & every feature of an eminent word processor like MS Word, etc. From the lower part of the window, you can insert External link, Topic ID, Context Number, etc.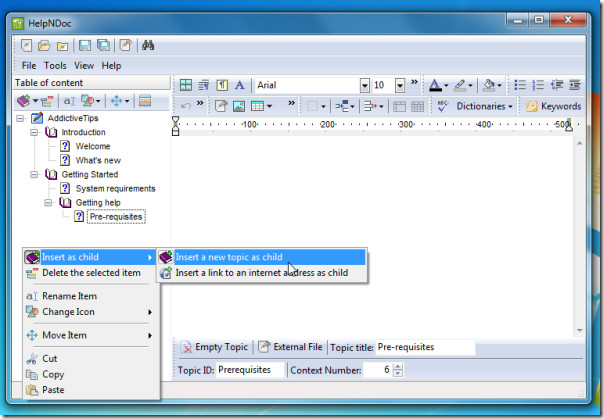 Once the help manual is created, you can easily compile it in different formats which includes; CHM, HTML, Report, and PDF. To publish the document complying all the specified settings in desired format, under Tool menu, click Compile Project.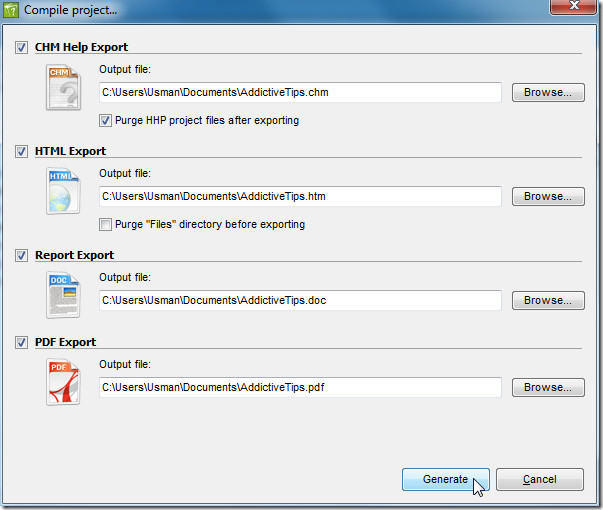 There are certainly lot more to it, we've touched the most useful & apparent features and  options it offer. If you are planning to write a detailed documentation of the application, try this handy tool out for convenience.
It runs on all Windows based OS, including the latest Windows 7. Testing was carried out on Windows 7 x86 system.