Create Customizable System Tray Shortcuts For Any Windows App With Tray Tools
Your possessions often end up defining you just as much as you define them, be it your couch, your car, your cat, or even your computer. Especially your computer, since it is essentially a digital extension of you. Most of us prefer to keep our possessions clean and tidy, yet miss out on applying the principal to the contents of our computer. Simply keeping your digital content neat and clean can go a long way in enhancing your productivity. Tray Tools 2000 aims to help you with that by letting you add shortcuts for your programs as small icons in the Taskbar's system tray area, thus reducing desktop clutter.
Tray Tools has been around since Windows 95, and works like a charm. You can place up to 24 program icons in the system tray. To launch a program, simply click its icon. If you want to modify an icon, you can do so from the system tray too. To start things off, access the tool from its own little red toolbox icon.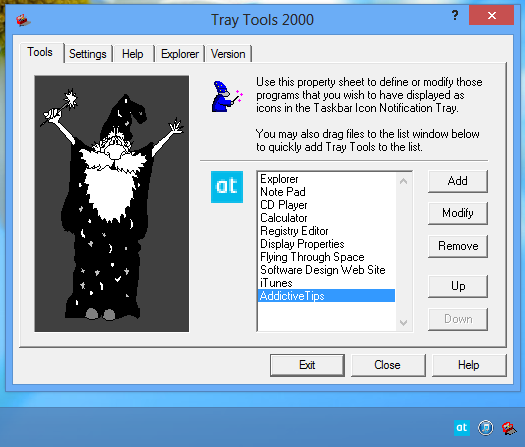 You will be presented with the app's window showing you a list programs under the 'Tools' tab, with a few useful entries like Explorer, Notepad, Calculator etc. added to it by default. You can add a new entry to the list by hitting the 'Add' button or by simply dragging them to the list window, and Tray Tools will create icons for them in the system tray, as demonstrated in the screenshot above. You'll notice the icons aren't arranged in the same order as they appear in the list. The 'Up' and 'Down' buttons provided in the list are solely for arranging the list – they don't arrange the icons in the system tray accordingly, but you can do so manually by simply dragging them to the desired position in the tray itself.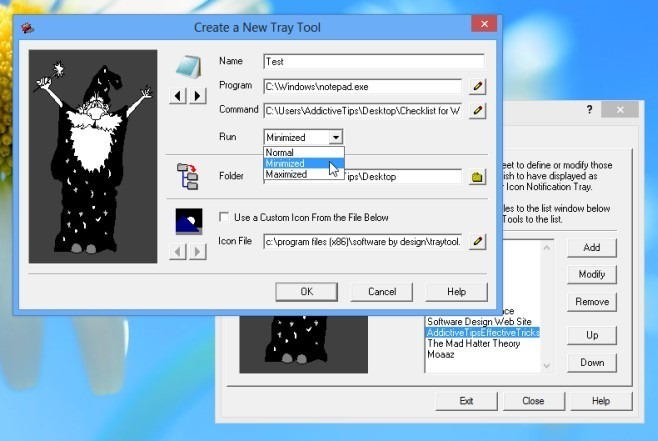 I'm creating a new Tray Tool in the picture above. In the 'Program' field, browse for the type of program you want to open. I've selected Notepad for this example. In the 'Command' field, you can optionally specify any parameters for the program, including the path of any particular file you would want it to open, like I have selected the 'Checklist for Windows' text file in this example. Next, select how you want your program's to open upon clicking – Normal, Minimized or Maximized.
The Folder path lets you set a specific directory for the program to open in (for instance opening a Command Prompt window in a certain directory). It works essentially the same as the 'Start in' field found in all Windows shortcuts, and can be left blank if not required. Lastly, you can choose a custom icon for your program's system tray shortcut from the developer's endless collection. Though if you don't share his enthusiasm for old retro-style icons, you can always browsing for any icon file of your choice as well.
In order to modify a program, you can also right-click it directly from the taskbar. It provides you with essentially the same controls that you get when creating a new icon.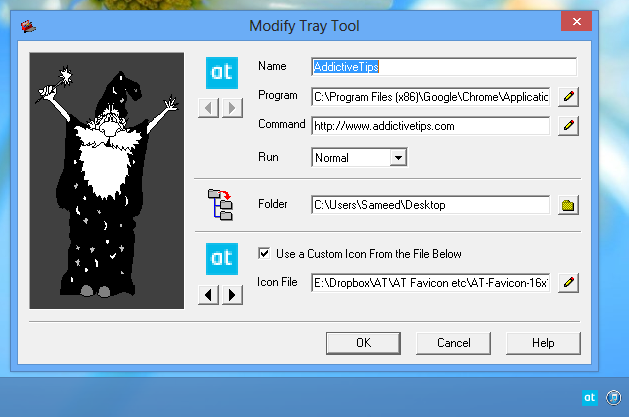 Tray Tools' 'Settings' allows you to tweak several options related to the program's operation. You can configure it to retain the window positions of all your Tray Tools apps, always keep Tray Tools on top of other windows, keep a log of when you used the tools, play a sound when you launch any of them, and play warning sounds for any dialog boxes that pop up.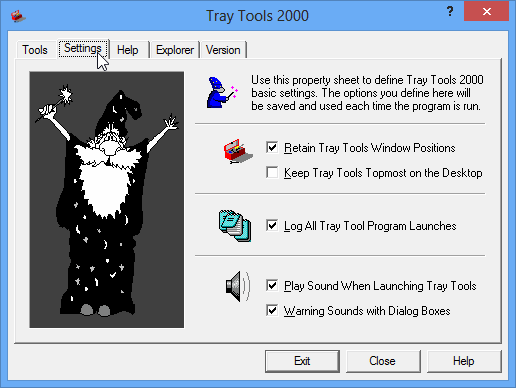 Tray Tools won't run automatically on Windows startup until you set it to do so from the 'Explorer' tab by enabling the 'Create a Startup Folder Item' check box. Now, every time you start your computer, your icons will load in the system tray. You can also create and remove Start Menu and Desktop icons for the tool from here.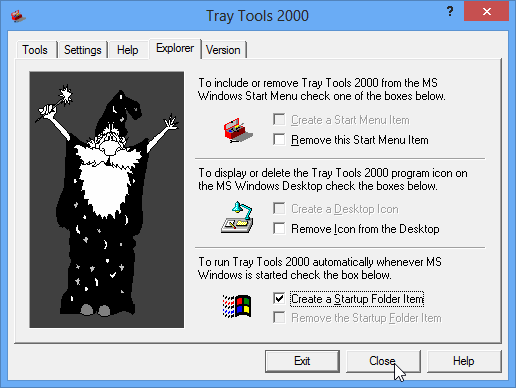 Using the 'Exit' button will remove all your custom icons from the system tray and terminate Tray Tools, but you can get them back any time by simply relaunching Tray Tools itself. If you want to save your changes and keep using the icons, press 'Close' instead of 'Exit'.
Tray Tools 2000 is available for all versions of Windows including XP, Vista, 7 and 8 as well as older and obsolete versions like Windows 95, 98, ME, NT and 2000. Testing was carried out on Windows 8 Pro, 64-bit.