CryptoPAD Offers A File Encryptor, Text Editor & Cipher In One Package
A substantial number of people use Notepad or other similar text editors for quickly taking notes in Windows. It all sounds okay to rely on these as far as it's about saving notes that are not sensitive in nature, but when it comes to storing something a little more confidential and private, plain text editors don't quite cut it for the job. CryptoPAD is a Windows application that allows you to take and save notes protected with advanced encryption algorithms. Along with a feature-rich text editor, it houses a file encryption tool, a checksum calculator, and a unique Vingenere Cipher, all in a single package.
Sporting a simple design, CryptoPAD offers a tabbed interface for editing multiple files together, and allows you to edit and save files in TXT, RTF and CEF formats – the last of which can be used to encrypt any underlying information. The application supports only basic text formatting options, allowing you to change font type and color only. You can, however, change text alignment (not for plain TXT files), as well as specify custom background color of the text editor space.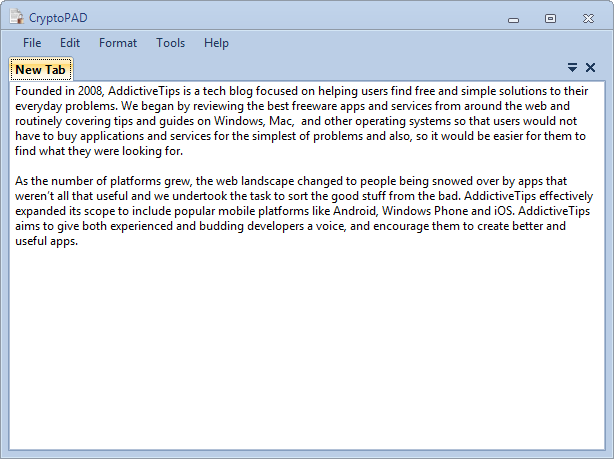 Apart from letting users jot down notes, one of the app's key features is its ability to encrypt or decrypt any type of file on the fly.  The integrated File Encrypter (which can be accessed either with the Alt+Shift+F hotkey or manually under Tools menu) lets you encrypt files using Rjnadel Algorithm, along with a custom password. You just need to specify the source and destination files, input the password and let the application do the rest for you. In addition, you can save logs of the encryption process if you want. Files that were previously encrypted via this tool can be easily decrypted from the Decrypt tab.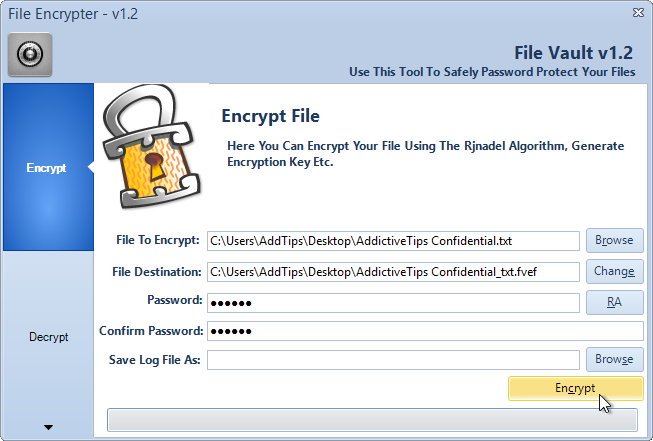 The Checksum Calculator available under the Tools menu is pretty much self-explanatory. For those who are unfamiliar, checksum allows detecting errors in an arbitrary block of digital data, and furthermore lets you check integrity of a file against any modification. To calculate the checksum for any file, click the browse button to select the source file, and the tool will automatically starts analyzing it, presenting you with its MD5, SHA1, SHA256m SHA384 checksums all in one place.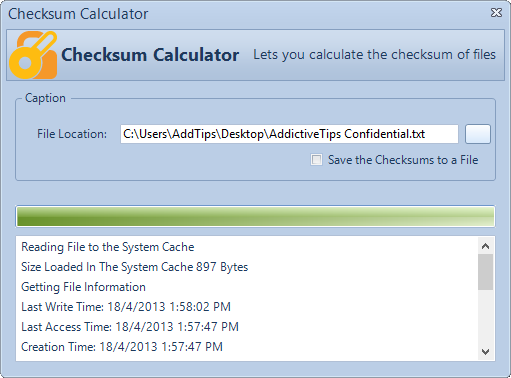 The advance Vingenere Cipher tool lets you encipher any type of text. This highly secure method can be used to send private information to others. It can be launched from the Tools menu. To encipher your text, enter it under the appropriate field followed by specifying a password and an encryption key, and click 'Encrypt'. You can decrypt any enciphered text by reversing this method under the Decrypt tab.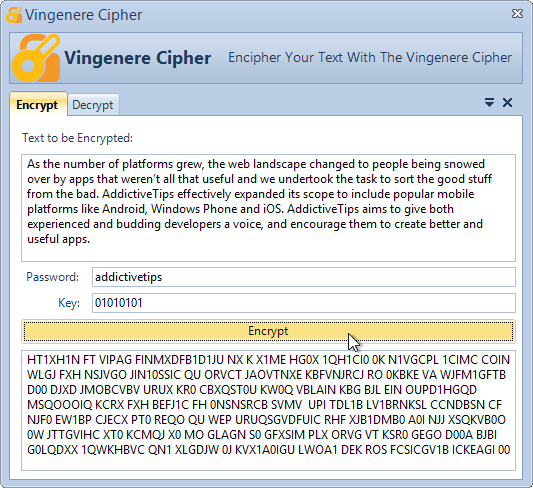 In a nutshell, if you need a robust text editor that boasts a lot of advance encryption features, CryptoPAD might just be what you're looking for! It works on Windows XP, Vista, 7 and 8.