CurrPorts – Monitor Open Network Connections
Network monitoring is very vital as most malware or viruses infect your computer through the internet. Most of the time you don't even know that a malware is running on your computer and downloading virus from the internet to your machine. To put into the nutshell, its very crucial that you should actively monitor your computer, the best way is to always monitor what ports are open and which processes are running on these ports when your computer is connected to the internet.
CurrPorts is a light-weight and portable utility from Nirsoft which lets you monitor and manage the open TCP/IP and UDP ports of your computer.
It is a network monitoring tool which shows the list of all the currently opened TCP/IP and UDP ports on your system. It also displays the full details of the process which are opened the particular port (including process name and its description). It has an awesome logging mechanism and it lets you kill any particular process very easily. It also lets you copy the ports information to the clipboard or save it to HTML/XML/Text file.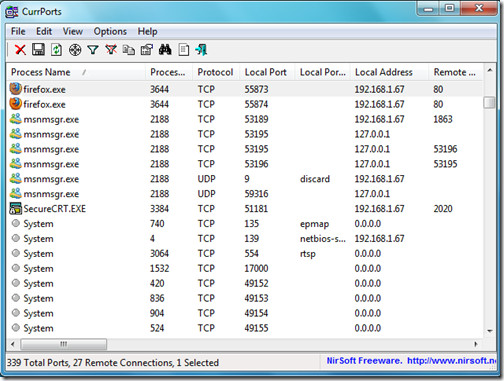 It is very simple to close any particular connection, kill any process, filter the process or log the activity. Right click the process on which you wish to apply any action and it will show a list of all the available options.
It works perfectly on Windows NT, Windows 2000, Windows XP, Windows Server 2003, Windows Server 2008, Windows Vista, and Windows 7. Both 32-bit and 64-bit versions of the software are available. Enjoy!