Customizing Ribbon In Microsoft Office 2010
The Ribbon is basically a panel that houses the command buttons and icons and it also organizes commands as a set of tabs. The ribbon consolidates the functionality previously found in menu, toolbar, and many task panes into one area, and thus as a result,  it  increases both productivity and usability. It is not a new concept, Microsoft introduced it in Office 2007, but Office 2010 has implemented it with some enhanced features and it also lets you customize the Ribbon. One of the important things is that now it is not just limited to MS Word and MS Excel, Outlook also implements this feature.
Lets explore it in some more details, launch MS Word 2010 and you will be able to see Ribbon located in the right most corner, almost under Close button. The following screenshot shows it more clearly.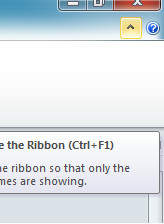 Now, lets see how we can customize the Ribbon in Microsoft Office 2010, right click the Ribbon icon and choose Customize the Ribbon option.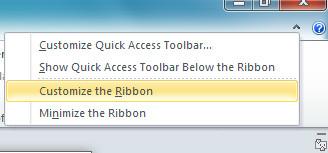 Word Options dialogue box will be displayed where you can customize the Ribbon settings from Customize Ribbon option.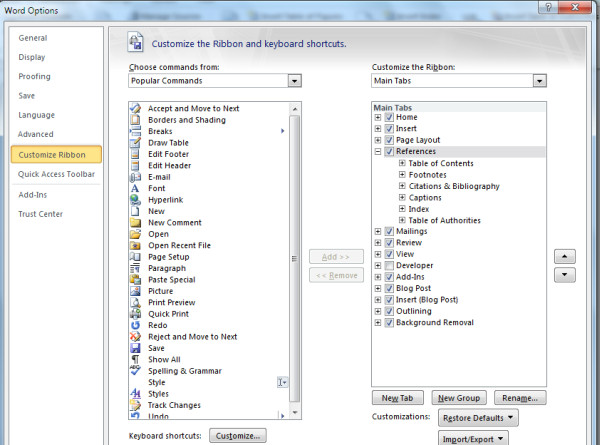 Now you can make new Ribbon tabs and add or remove commands from the tabs easily. You can choose command from choose command from box and can click Add >> to add them to the Ribbon, similarly you can select command from right side box and click  <<Remove to remove them from Ribbon.  Similarly, you can use New Tab and New Group option for the better management of commands. Enjoy!