Cut AVI Media Files With Solveig Multimedia AVITrimmer
Solveig Multimedia AVITrimmer is a multi-lingual AVI trimmer. As name implies it is designed solely to cut AVI media files whilst providing a simple viewer which allow users to cut the video with precison. It  has a simple interface and offers all the necessary options to cut down the AVI file as desired.
To start out with, you'd need to specify the AVI file which is to be trimmed.Once AVI file is inserted, it will open an active window in which you can watch the added video and properly flag the area you want to cut. The flags button along with other basic playback buttons are listed at the left-bottom of the window. From Stream, you can enable/disable A/V streams. It also let you mark the flags manually, you can enter the Start and Stop time to mark the area. Once the settings are configured, specify the output folder and click Run to trim the file.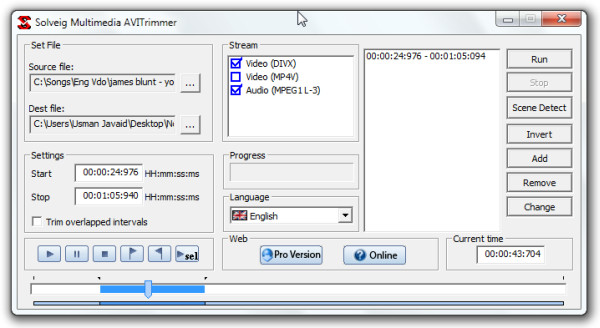 The application is responsive in terms of quickly rendering the file. It comes useful especially when you'd need to trim long AVI video file without much hassle involved. It offers simple usage and fast processing speed.
It runs on all Windows based OS, testing was done on Windows 7 x86 system.
Download Solveig Multimedia AVITrimmer