Cut Parts From Digital Images Quick And Easy
For image/photography enthusiasts, this software will be a bliss. PictureCutter is a free portable tool that does exactly what its name suggests; cutting pictures to extract out the best-looking parts. It handles working with multiple images seamlessly and in a very convenient manner, while maintaining the focus on creativity.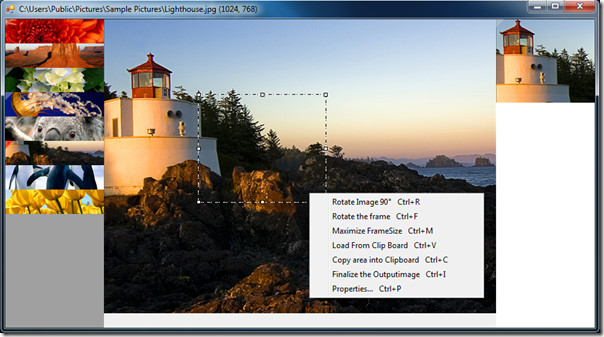 To keep things simple, there are no buttons or fancy menus. Instead, things are controlled using context menus. When the program is launched, you get to choose the input folder for the images that you want to work on. All image files present in the source folder are loaded as partial thumbnails in the left pane. Double click an image to select it for editing.
A simple selection box lets the user highlight the area that they want to cut. Right-clicking this area will present further options, like rotation, maximizing etc. You may also select Properties for program settings.
When you have made the selection, double click it to move it to the right pane, at which point the extracted image has automatically been saved to your target output folder. That is it! You may repeat the process for as many files as you like.
When you launch the application, a welcome frame offers guidance on usage. Go through this for more useful instructions.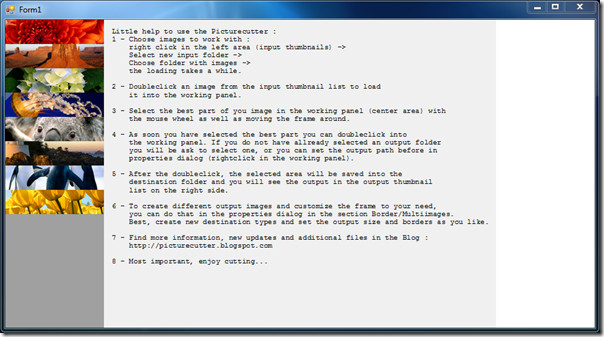 The software is based on .NET Framework, and this probably is the reason for a bug that bothered us – it crashed! PictureCutter gave error when we tried to scroll input image list using the mouse wheel. We hope the developer will take care of this in some future release.
We tested this tool on Windows 7 32-bit OS. Worked like a charm.