Dashlane Is Your Personal Internet Assistant, An Alternative To LastPass
When it comes to selecting a personal information and account password manager, there are numerous applications available at your disposal. For most users, who want a powerful, as well as simple, online password manager, LastPass is the obvious choice, while others keep their personal info and account credentials secured from external attacks using KeePass and 1Password. Today, we came across a personal internet assistant and online accounts manager called Dashlane, which allows users to securely manage personal information and online passwords. Packed with form filler and automatic login features, Dashlane provides one-stop solution for accessing and managing personal information and online accounts credentials. The application includes a comprehensive set of features and tools to help you easily organize online account user logins and passwords, enabling you to automatically fill the user login details, including username and password, and add new user logins without having to bring up the dashboard. Details to follow after the jump.
Like LastPass, it prompts users to fill the user login forms using pre-defined personal and contact information. Additionally, it lets you select the user account, which you want to use to login to an online service. For instance, if you're using multiple Google accounts, it allows selecting the account you want to use. Unlike other password managers, Dashlane encrypts your personal info and accounts' passwords with AES-256 on local machine, and then syncs your account details with its online server, so that you can access accounts database from anywhere. Since the synced information is encrypted using defined master password as a key, Dashlane management and dev team can't access your personal information as well as saved user account login details.
Currently, it provides add-ons for only Firefox and Google Chrome. The web extension is quite similar to LastPass in terms of usage, i.e., when you open a login page, it looks for saved account details, and fills the input fields, allowing you to atomically login to the service. Dashlane parks itself in the system tray after being launched, enabling you to quickly enter the master password to login, and sync all the account details. The Dashboard presents numerous categories that help you efficiently organize the saved personal info and account details (usernames and passwords).
What makes it different from LastPass is its ability to categorize account details into various groups such as Mails, News, Banking, Entertainment, News, etc. Using categories, you can easily manage account details and passwords without having to manually search accounts from a massive account database; just select the category and then choose the account details you want to view or modify. For instance, you can put YouTube, DailyMotion and other video sharing websites' account details into Entertainment category. When you want to change account details of any entertainment website, select Entertainment category and select the account you want to view.
Running it for the first time requires creating a Dashlane account. Just enter the email address to start the account creation wizard. You can also choose to enter your cell phone number to add an extra security layer to your account credentials.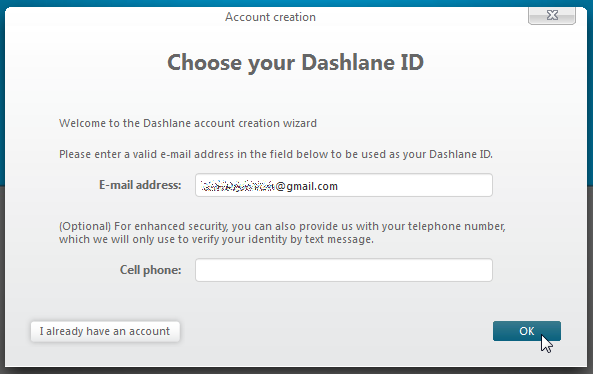 The first step asks you to enter the master password, which will be used to log in to Dashlane's account management console. To help you pick a strong master password, it provides a simple, yet unique strong password wizard. All you need is to enter a sentence with some numbers that you can easily remember. Once entered, it automatically generates a strong password based on the information you entered.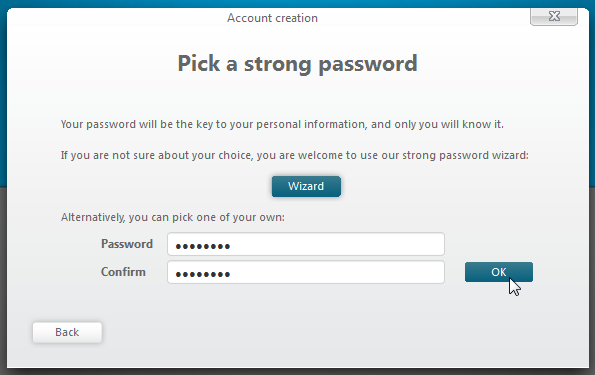 The next step requires you to re-enter the password. Once done, click OK.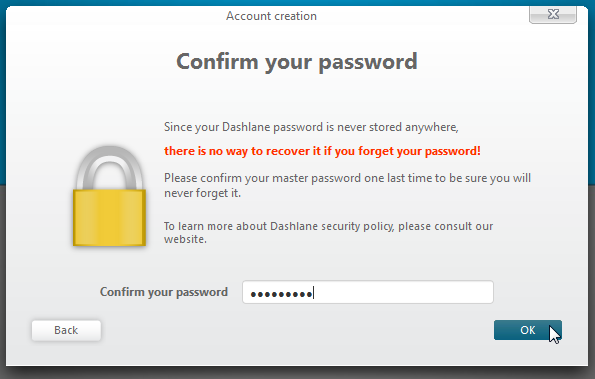 The last step asks you to enable the synchronization feature to automatically sync your personal information and accounts user login details. Enabling this feature will automatically upload the information you add. However, if you don't want to sync the account details, you can use Dashlane on your local machine only.
Once all account settings have been configured, it will sit in system tray, allowing you to log into Dashlane for managing both offline and online user accounts. Clicking the system tray icon will bring up login window, letting you enter Dashlane's username and master password.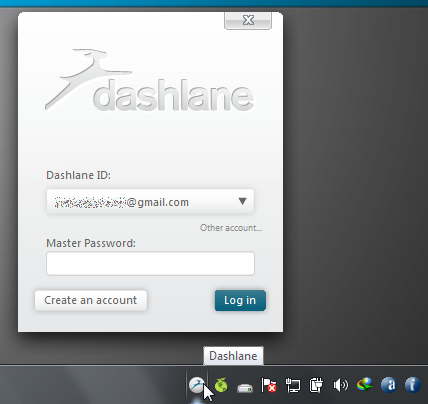 Dashlane adds an icon next to address bar in supported web browsers. Unlike Lastpass, it shows only two options Login/Logout and Open Dashlane (dashboard). It must be noted that if you're using LastPass or any other password manager that supports exporting user account information in CSV format, you can import your user login details into Dashlane Dashboard.
It shows Log in as option on user login forms to let you quickly choose the account credentials you want to use to log in to service. For instance, if you've saved multiple Gmail logins, it shows all of them on Username and Password input fields to let you select the account you wish to log in.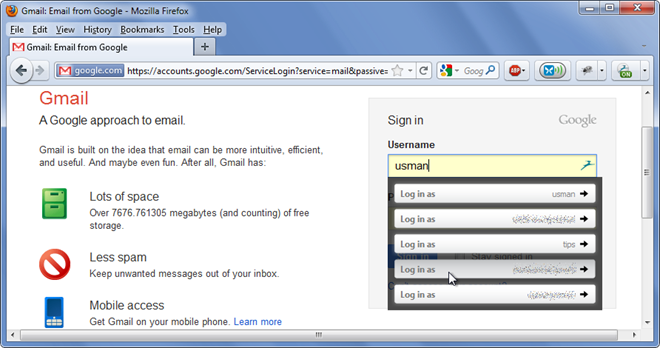 When you manually fill out login details, it prompts you to save the entered information, so that you can use it later without having to enter the login, password and other details. While saving the login info, you can also pick the category of the website.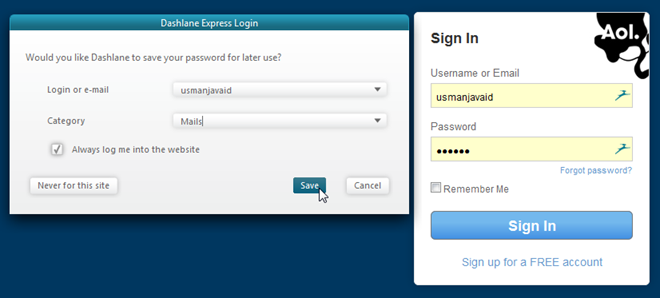 The Dashboard categorizes the secured information into 3 groups – Personal Data, Internet Account, and Internet Shopping.  The Personal Data section lets you add contact information, shows all email addresses and other details that you used while creating the online accounts. The IDs and Payment tabs allow adding ID card number, Passport, Driver's license, Social Security number & Tax numbers, and Credit/Debit and PayPal account details, respectively.
The Internet Accounts section holds Logins and Passwords, and Security dashboard. The former tab lets you view all of your saved accounts with options to modify the details, and especially categories. You can manually enter the login details of any online service by providing the website URL, username, password and other details.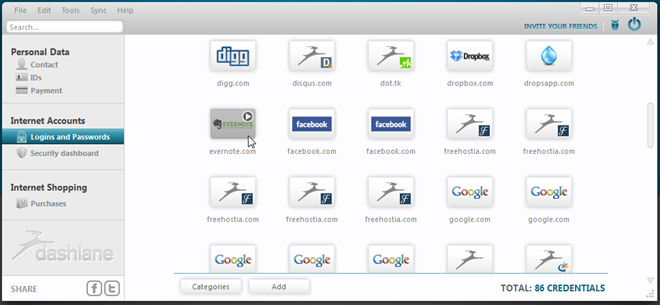 Clicking the user account enables you to name the credential, change login, view & modify password text, and assign category to the credential.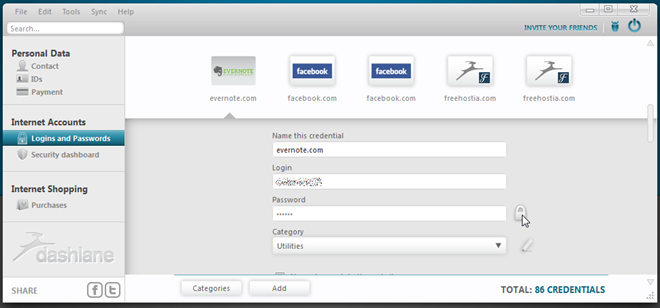 Under Security dashboard, you will find all the saved accounts with password strength meter and info like number of times you used the password, and safety level. Clicking the small lock button shows the password text.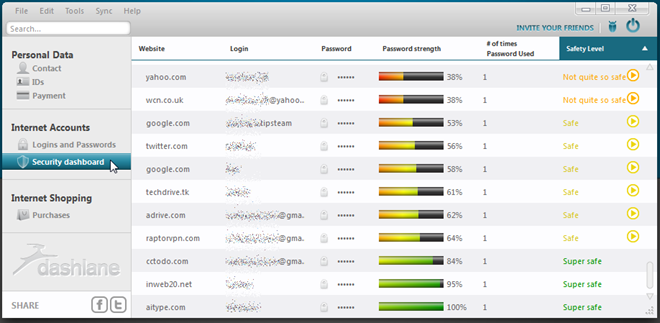 Purchases tab from Internet Shopping section helps you record all the online transaction details. You can easily view them from one window, without having to go through the hassle of searching your email account. When you make an online transaction, its dashboard asks you whether you want to save the information or not.
When you configure a new device/PC with Dashlane, it first sends a security code to your email, authenticating the access. This saves your Dashlane's account information from unauthorized usage and external attacks. You have to enter the security code along with Master Password to configure the Dashlane on a new device.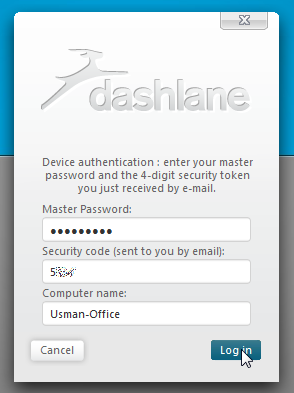 In case, you want to remove the device from configured devices list. You can remotely access the Dashlane online dashboard via a browser, and remove the configured device. It also allows you to view your account credentials including website URL, username and password.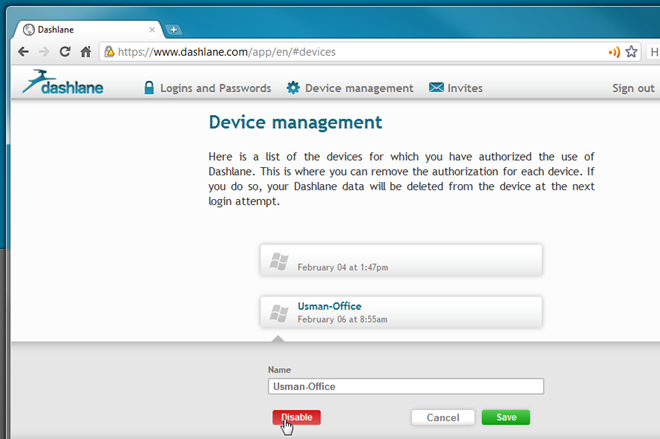 You can watch the video below to understand how some of its primary features work.
---
All in all, Dashlane offers a slew of features to easily manage online account credentials. With account management features similar to LastPass, it can quickly fill online forms, switch between saved account details, automatically enter necessary personal information, save online transactions, and organize all the account passwords under one hood. As of this writing, it's is in closed beta testing phase, supporting Google Chrome and Firefox. According to official dev community, Internet Explorer support is in works, and will be added soon. Since it's in private beta, you need to sign up with the service using email address to get invited.
It works on both Windows and Mac OS X. Testing was carried out on Windows 7 Ultimate 64-bit.
Update: Dashlane is now available for Android. Read our Dashlane for Android review for details.