How to set default apps on Windows 10 1809
Setting a default app for a file type is a no-brainer on Windows 10. If you go through the Open With option in the context menu, a menu opens listing various apps that you can select to open the file. At the bottom of this menu, there is supposed to be an option that lets you select the app to always open that particular type of file. For some reason, probably owing to a bug, the option doesn't appear on Windows 10 1809. If you need to set default apps on Windows 10 1809, you have to go through the Settings app.
The option isn't absent for all file types. It only fails to appear for some files types and these file types can already have a default app set for them which means, if you're trying to change the default app, you need to go through the Settings app.
Default app in Windows 10 1809
Open the Settings app and go to the Apps group of settings. Go to the Default Apps tab, and scroll down to the Reset button. Just under this button, you will see an option 'Choose default apps by file type'. Click it.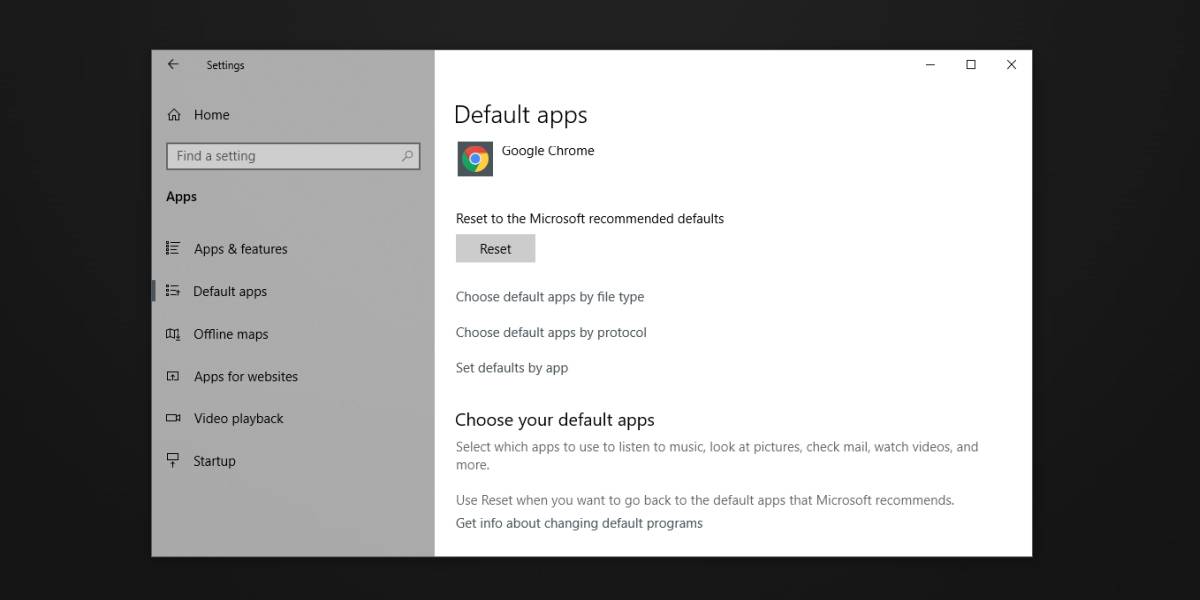 One the screen that follows, you will see a long list of file extensions. Pick out the file extension that you want to set the default app for. Click the 'Choose a default app' option if no default app has been set, or click the default app that's already been set and select an app.
This method has a shortcoming whereby you cannot browse for apps to set as the default however, Windows 10 does a reasonable job of suggesting apps that can open a type of file. If it doesn't suggest the app you want, you can always set a default app from the Command Prompt. It's simple and you aren't restricted to a brief list of apps that Windows 10 thinks should be enough.
This bug appears on Windows 10 1809 which is still under the wraps at this point. I got this bug on the initial version of 1809 which Microsoft later pulled. The new, stable version is supposed to be free of these sort of bugs or so that's what we're all hoping for. If you still get the bug after installing the stable version, then obviously, Microsoft didn't do a good enough job and you're going to have to go through the Settings app or through the Command Prompt. If you've installed a new app, check if it has an option to automatically set file associations. Some apps, like IrfanView offer to set file associations when you install them though they are a minority.