Define Process Priority To Increase Performance With Process Prioritizer
There are some applications that hog up too much memory even when you don't need them. This greatly lowers the responsiveness of your computer and make other, more important applications, run slower than they are supposed to. Some of the times, you are not even aware and a process related to some third party application keeps running in the background eating up all the memory. You realize something is wrong only when the computer, either gets too slow, or goes entirely into non responding mode. Process Prioritizer is an application for Windows that allows you to adjust the priority of running applications. This allows you to stop memory intensive applications interfering with others. The application lets you add applications to different priority settings, such as Real-Time, High, Normal and Idle. You can also view a list of currently active processes and choose a custom Operating Mode. Keep reading to find out more about Process Prioritizer.
The Windows Task Manager also allows you to change the priority of processes, however, you cannot put different processes into different priority group making them run with different process priorities by default. Process Prioritizer, on the other hand, has different categories, such as Real-Time, High, Normal and Idle. You can put a process in any of the categories and stop worrying about changing the process priority every time you run the application. To add applications to Process Prioritizer, right-click its system tray icon and select open. Now, choose the Operating Mode from System Process Scan and Shell Hook. System Process Scan lets you define a Refresh Interval between 5 and 60 seconds, while Shell Hook scans processes and changes any instance of any process listed for priority change.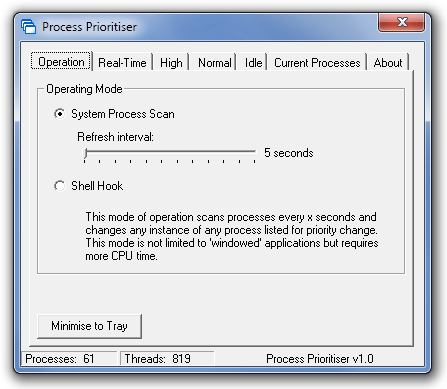 Next, select a tab from the top from Real-Time, High, Normal and Idle, depending on the level of priority you want to set. Click Add and enter the complete name of the process for that application. The names for application processes can be found under the Current Processes tab.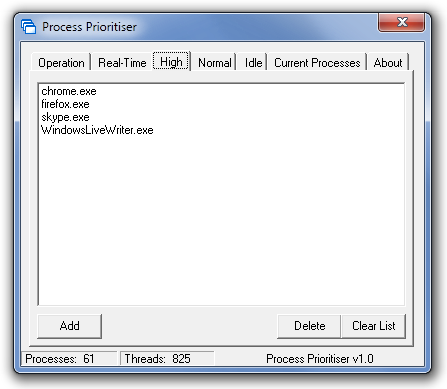 The application performs all the advertised functions, however, it can really use a face lift in terms of the interface. Right now the interface looks really bland. Moreover, adding processes to the program requires you to write its name after looking it up from the Current Processes tab. It would be easier if users can select the processes directly from the list. Process Prioritizer works on both 32-bit and 64-bit versions of Windows XP, Windows Vista and Windows 7.