Delete All Empty Folders In A Directory From Its Right-Click Menu
Empty folders are a nuisance, especially empty folders within other empty ones. They make it harder to search for something important. Usually, I'm content with letting them be, because locating each and every empty folder on your system just isn't worth the bother. Tools like Empty Folder Cleaner speed up the process a great deal, but their bulky interfaces and extra features can prove to be a handful for some. If you want to satisfy your cleaning instinct with nothing more than a click, try out Sub4Del – a nifty, semi-portable tool that lets you delete all empty sub-folders within a directory of choice right from its right-click context menu.
Note that during installation, Sub4Del offers to install Delta toolbar and make Delta your default search engine and homepage. Doing so isn't required by Sub4Del itself, so you can go ahead and decline the offer by unchecking all options under "Advanced."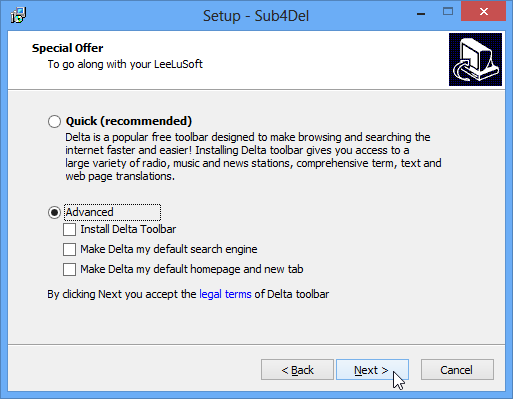 Sub4Del simply adds another option to the Windows File Explorer context menu. Right-click a folder and you should see a new "Remove Empty Sub Folders" option (as shown in the screenshot below), clicking which will get rid of all empty folders and sub-folders within.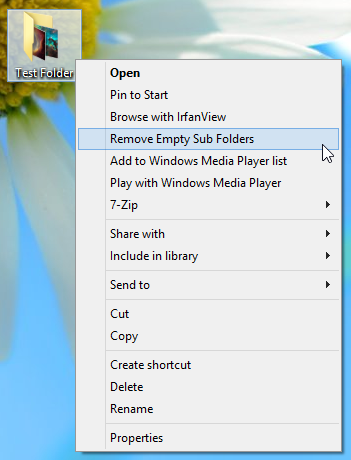 The great thing about this tiny utility is that its executable is portable. Simply put, its installation is more of an extraction; you can move the DEF.exe file from its installation folder and run it from any other location without having to install it again. Simply copy it to a USB drive, plug it into your other computers and run the app directly from the drive to rid them of empty folders.
There really isn't much to the tool itself. When you run DEF.exe, you get a small window with three simple options. The "Add to folder context menu" option add the aforementioned "Remove Empty Sub Folders" option to the Explorer folder context menu, the "Ask before delete" option will display a confirmation window whenever you attempt to clear empty folders, while the one labeled "Show message after delete" will have Windows notify you when the sub-folders are deleted.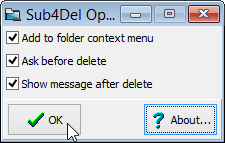 Remember to run the app as administrator. If you don't, it might fail to install the shell extension that displays the "Remove Empty Sub Folders" option in the Explorer context menu or save any settings, for that matter.
When you click OK, the tool generates a "Settings.ini" file. If you want to preserve your settings while moving the DEF.exe to another location, simply move this file along with it, placing them both within the same directory. That way, every time you run the tool on a new computer, all you'll have to do is run the EXE file and click OK to start removing empty folders.
Sub4Del was tested with Windows 8 Pro. It is also available for Windows 7 and XP.