Get Rid Of Potentially Harmful Cookies From All Major Browsers With MAXA Cookie Manager
Web browser cookies are snoopy little text files that are put on your computer by websites to improve your browsing experience. Although cookies are useful for things like not having to sign in or providing a website with your site-specific preferences each time you visit it, they also raise privacy concerns by tracking your location and browsing habits to present ads (that you may not otherwise like), monitoring (and in some cases storing) your site login information and the like. Sure, you can get rid of them manually as well as by using extensions and various system cleaning tools like CCleaner, blocking all cookies may adversely affect your internet browsing. That's why using an app like MAXA Cookie Manager to get rid of bad cookies while keeping the good ones can be a great solution.
Many people have issues with browser cookies, especially since the revelation of secret government projects like PRISM. So it's worth mention here that cookies are not as harmful as we might think of them. They are not spyware, viruses, malware or any other similar threat, but are rather designed to store useful information related to the way you like to browse a site. However, since the internet is one large network that links a gazillion different websites, there can be no guarantee when a website goes rogue and starts using cookies for other, less desirable purposes. So instead of removing all the cookies in one go, MAXA Cookie Manager lets you delete only the potentially harmful ones.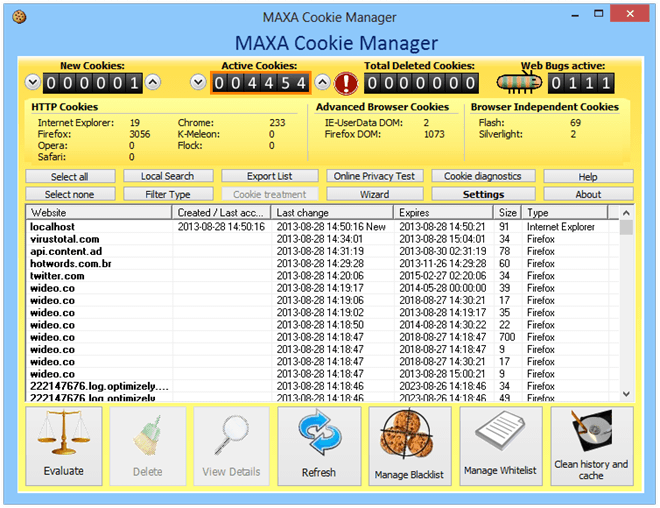 The application sports a really simple UI and works with all version of popular web browsers, including Mozilla Firefox, Google Chrome, Microsoft Internet Explorer, Apple Safari, Opera, and even some other, less popular ones. Once downloaded and installed, it automatically adds relevant add-ons or extensions to the supported web browsers. The interface of MAXA carries a list of cookie items that it scans when launched. In addition, you will see the total number of cookie files that are active, new or deleted.
After it scans all the cookies from all your web browsers and present them to you in a list upon start, the app then displays a pop up window that allows you to delete or block any web bugs found with a simple click, or simply ignore them for now and further scrutinize them manually. These web bugs are basically the unwanted cookies that can store a lot of information such as the language you use, websites you have visited, your browsing habits , topics you're interested in, countries you take your laptop to, etc.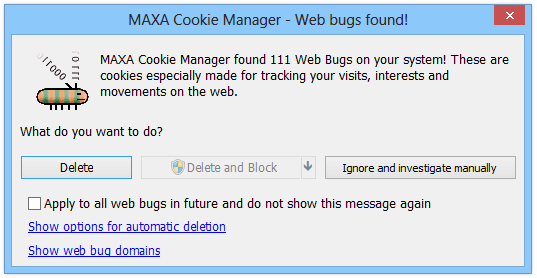 The interface carries a row of icons at bottom named 'Evaluate', 'Delete', 'View Details', 'Refresh', 'Manage Blacklist', 'Manage Whitelist' and 'Clean history and cache'. To delete a cookie, simply right-click on it and choose delete from the context menu. Alternatively, you can press Delete on the application window after highlighting your desired cookie file.
The Evaluate feature of the app changes the color of each cookie file to red, yellow, green or grey. These colors act as identifiers to tell you how harmful a cookie might be. That is, cookies in red are web bugs, yellow indicates the cookie has a long expiry date, green means it seems less problematic, while grey items represent whitelisted cookies that are perfectly safe to keep. The Whitelist and Blacklist features – which are a part of the Pro variant of the tool – basically allow you to tell MAXA whether a website's cookies are deemed harmful or safe by you. For blacklisted sites, all cookies will be blocked, while all cookies will be allowed for whitelisted ones.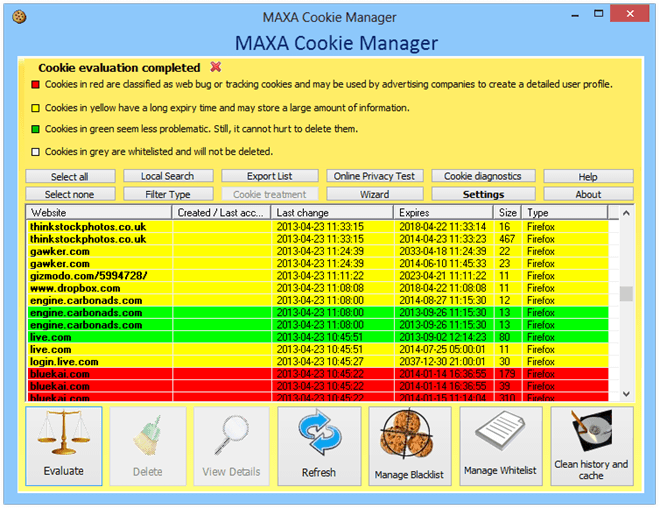 All in all, it's a very feature-rich application that's available in two different versions: Standard (free) and Pro ($29.95), the latter of which comes with some extra perks like ability to blacklist or whitelist cookies, and manage special and browser-independent cookie. MAXA Cookie Manager works on Windows XP, Windows Vista, Windows 7 and Windows 8.
[via Ghacks]