DemocraKey Provides Internet Security For Anonymous Web Surfing And More
DemocraKey is one of the most useful suite for privacy and security advocates, sadly not many people know about it. If you want both security and anonymity while browsing the web, give this portable privacy suite a shot. It includes a variety of different open source tools for performing tasks from secure browsing and virus scanning to encryption and anonymous email sending.
A total of five different applications are included in this suite – Tor Browser, Clamwin, Thunderbird, TrueCrypt, and Abiword. All of which are portable!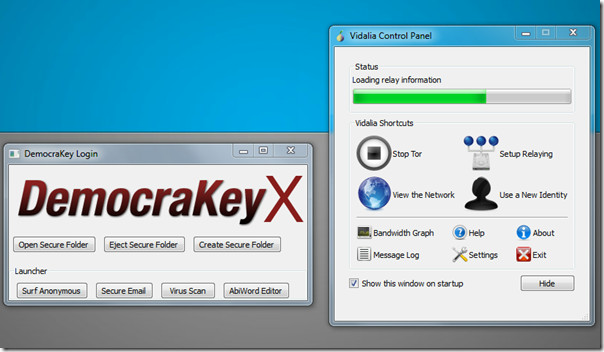 Tor Browser is powered by Firefox to browse web anonymously without using an insecure proxy service. Clamwin is an anti-virus tool to check for virus on any computer before you start using it. Thunderbird includes Enigmail and SnuPGp to send anonymous and encrypted emails. TrueCrypt is to encrypt your files and create hidden volumes. And finally Abiword can view and edit documents inside your secured directories.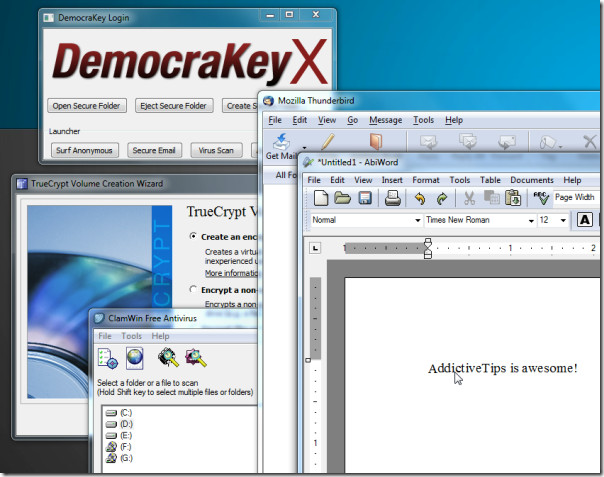 Being a portable suite, you can install it in a USB drive and use any of the above applications while on the go without having to worry about either security or privacy. It has come a long way since version 2.0 which was released back in 2007. We tested it on Windows 7 32-bit OS and all applications worked seamlessly without any problems.