Desktop Color Picker To Help Match Color Shades With Your Designs
Picking up right set of colors for a professional graphic designing project is unarguably every designer's nightmare. The inception stage requires graphic designers to choose the most prominent shades for their design, so they can be properly weaved in with other defined color scheme. If you're about to start your graphic design project, Just Color Picker will surely help you pick up the right set of color shades off the screen.
Just Color Picker is a color picking application for Windows, having a host of coloring picking features to view and, importantly, to customize chosen colors in a way you see fit with your design. In comparison with recently featured Instant Color Picker, Just Color Picker is however not that much feature-rich but provides some unique color matching features in order to check different shades with your design's primary colors.
Just Color Picker supports all 5 widely used color values, including, HTML, RGB, HEX, HSL and HSB/HSV. The built-in 3x, 9x, and 15x zooming option lets you precisely pick color shades from the screen. The nice part is that you can add chosen colors to its native list of color shades where you can comment selected color shade and copy its respective color code to Windows clipboard to use it in graphic editing suites and software development IDEs.
To get started, launch the application and hover mouse pointer around to view colors in zoom box. By default, it use 3x zoom, but you can change it to 9x and 15x from Options –> Zoom. When you want to capture the color shade, use Alt + X hotkey combination. It will add the color shade to the list present next to zoom box.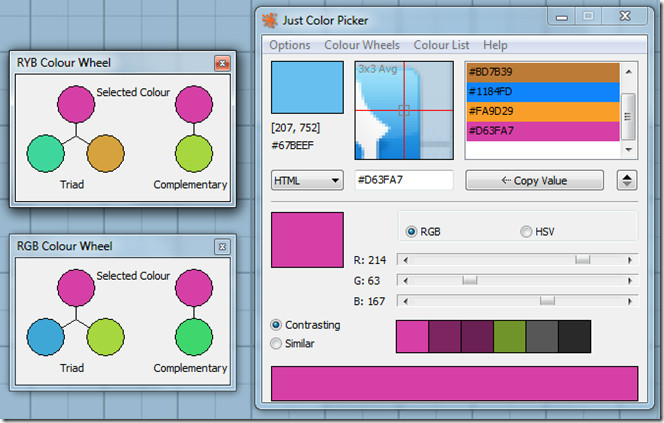 From underneath the color code, you can switch between provided color values. To view difference between RGB and RYB values of captured color shade, launch RBG and RYB color wheel from Colour Wheels menu. You can comment and copy color code of previously captured color shade from right-click menu of color list.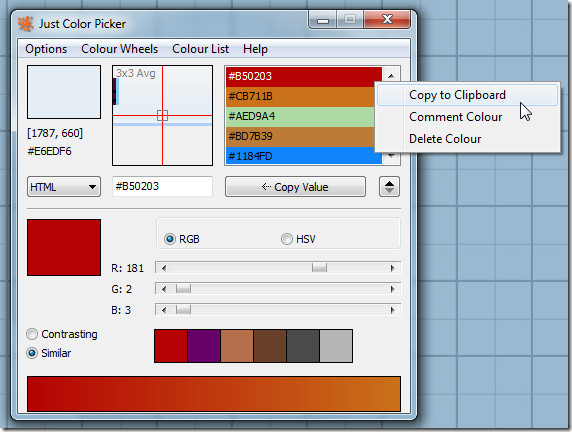 The color shade customization options are present at the bottom of the window. You can use RGB / HSV color sliders to slightly change the captured shade. Here, you will find harmonious color finders which will assist you pick color combinations that perfectly match with your design. Just Color Picker is a portable and multi-lingual application that works on all versions of Windows.