Desktop Google RSS Feed Reader
Do you use Google Reader to keep track of all RSS feeds? Do you wish there was a desktop version of Google Reader too with support of latest notifications?
Desktop Google Reader is a tool developed for those Google Reader addicts who want to keep an eye on all the RSS feeds straight from their desktop without having to keep a browser window open.
To add a new feed, simply hit the + sign and add the RSS feed URL. New icons have been added which allow users to "Mark all as Read". You can even favorite an item and choose when to notify you. The only downside I could find was that the passwords are saved but not encrypted, a serious bummer for most users. If you mark multiple feeds as read, the app might hang for a few seconds.
Note: This is not an official app from Google, it is a 3rd party app(unofficial app) developed for those people who want to all their feeds on the desktop.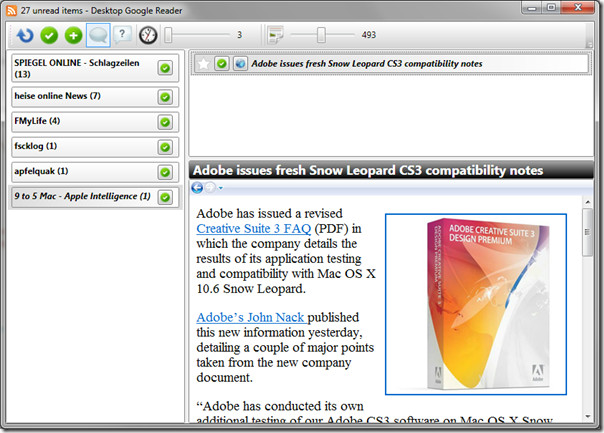 The screenshot above is taken from developer's page
It is relatively new app, with the latest version containing bug fixes, new features, and some other changes. It communicates on HTTPS, feed titles are shown on top, a link to the full article is given at the end of the summary, navigation keys(arrow keys) makes it easier to navigate through items, and many other improvements have been implemented.
If you use Snarl for notifications, then this app has a feature to support it as well. Otherwise the notifications are shown in Outlook-like style for all latest items in your RSS feed.
Download Desktop Google Reader
It works on Windows XP, Windows Vista, and Windows 7. Enjoy!