Desktop Notification Tool For Google Calendar Events
Looking for an awesome desktop notifier for events scheduled in Google calendar? Atchoo is a simple, smart, and elegant desktop notification tool that is both straightforward and easy to use. Earlier, we covered two tools for the same purpose, Gminder (for accessing and notifying of any Google Calendar events) and GCal Notifier (minimalist Google Calendar notifier). What makes Atchoo stand out is the eye candy notification alert showing Google Calendar event along with options to Dismiss or Snooze it for specified time interval.
In installation wizard, you can install the application in a portable mode to save all the settings and preferences in a single folder. Once installed, you will need to enter Google account credentials to access the calendar(s) that you've subscribed to. In latter steps, just select the calendar(s) to end the configuration setup.
It sits in system-tray, so you can quickly bring it up to create events, tasks, schedule meeting and birthdays in Google calendar.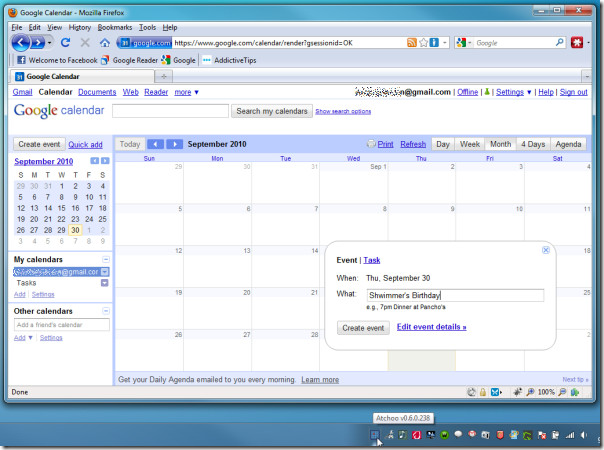 When the time of an event is reached, a desktop notification will pop-up immediately, allowing you to either snooze it for a time interval or dismiss it right away.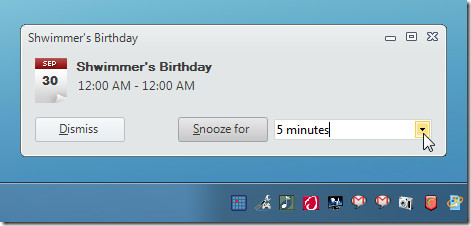 From its system-tray's menu, you can setup Google account information and add more calendars. It runs on all versions of Windows, provided you have .Net Framework 2.0 installed (which is not a problem is you are using any modern Windows OS). Testing was done on Windows 7 x86 system.