Desktop Plagiarism Checker: Check For Duplicate Content In Write-Ups
Plagiarism is the act of taking someone else's work and presenting it as your own, without crediting the original author. According to the Merriam-Webster Online Dictionary, Plagiarism is "to steal and pass off (the ideas or words of another) as one's own : use (another's production) without crediting the source." Even though it is considered a very big offence in literary circles, people usually don't give a second thought to it when copying someone else's work. It is a common habit among students to copy something off the internet, and use it in their own article without giving references. Desktop Plagiarism Checker is an application that lets you check for duplicate text, and see the percentage of content copied from the internet. Read more about Desktop Plagiarism Checker after the break.
Before you can use the application, you will need to register a free account on its homepage. Enter the required details, including your Name, a Valid Email, Password and click Sign Up to create the account. It is advised to uncheck "Receive Announcements" to avoid getting unwanted Emails in your Inbox.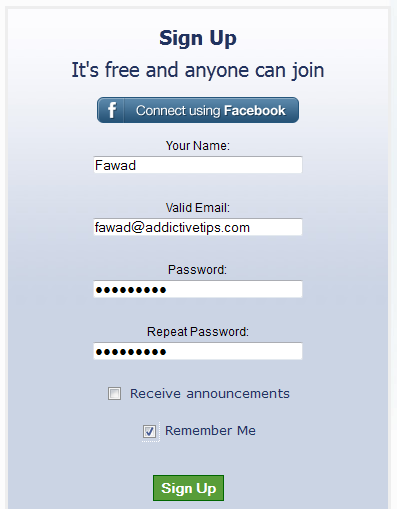 Enter your Email and Password into the Authorization window of Desktop Plagiarism Checker, and click OK to start using the application. It is a one time process and you will not have to do it every time you run the application.
The application supports more than 190 languages, and allows you to use Google, Bing and Yahoo search, as well as search for duplicate content on Google Scholar and Google Books. To check for copied content, just paste the text into the provided field, select the search engine and click Check Duplicate Content.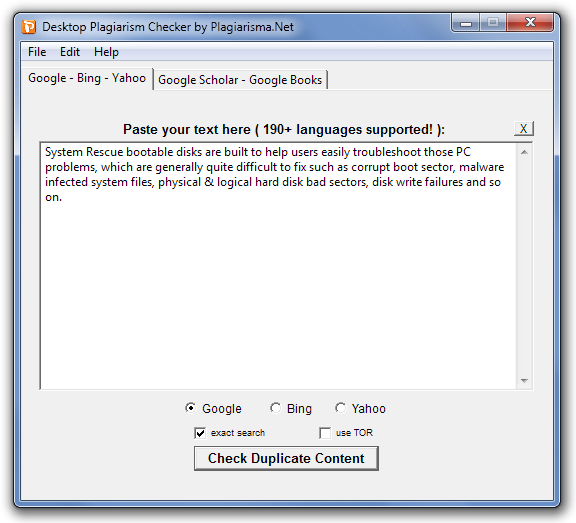 After searching the content on the internet, the application will display the number of total matches, their URLs, and the percentage of originality of pasted content. This enables you to easily pick out the sources where the content is copied from. You can use the software in multiple ways. For example, if someone sends you text content claiming it to be original, you can verify their claims by checking the provided text in this software. Moreover, you can also check if someone else has copied any of your content after getting published. Many people just copy/ paste content and claim it to be their own instead of crediting the original author.
Desktop Plagiarism Checker works on both 32-bit and 64-bit versions of Windows XP, Windows Vista and Windows 7.
Download Desktop Plagiarism Checker