Desktop Reminder Updated, Brings New UI, Categories & More
With so many things to do in a day, one needs to be reminded about the pending tasks during the day. Consider yourself in a situation where you have set up a lunch meeting with your friend or someone important for your business, but because of getting caught up in some other work, you forget about the lunch. This can either make your friend angry or you can lose a business deal (if the meeting was of that nature). To avoid forgetting about important things, we have covered a lot of applications that allow you to store tasks and remind you about them at the right time. Back in 2010, we covered an application called Desktop Reminder, a free task planner for Windows that offers quick options to let users create and manage tasks and to-dos efficiently. Today, we stumbled across the updated version of Desktop Reminder, which is now called Desktop Reminder 2. Read past the jump to find out about the changes included in this update.
The most significant and noticeable change is the main user interface of the application. The previous version had a rather simple looking interface with just a few options, such as New task, Modify, Remove and Mark as done at the top, whereas Desktop Reminder 2 offers a ribbon based UI, containing New Task, Open, Remove, Mark as Done, Today (tasks), Group, Columns and Search options in separate sections at the top. The main window lists down the stored tasks. The bottom part of the interface is reserved for the built-in calendar, which lets you easily have an overview of upcoming tasks and meetings. This lets you keep yourself updated and no task or meeting can come as a surprise to you.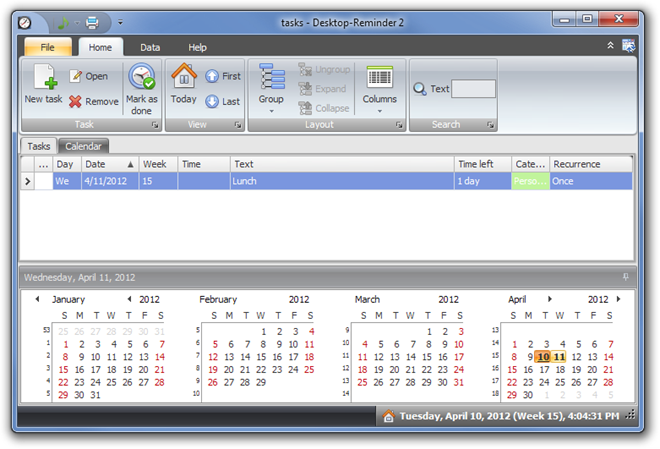 A Category section is added in the New Task dialog box. Now, you can specify a new category for each task, such as Important, Business, Personal, Vacation, Must Attend, Needs Preparation, Birthday, Anniversary etc. Each of the listed categories is denoted by a separate color which can be used to easily recognize the type of an upcoming task.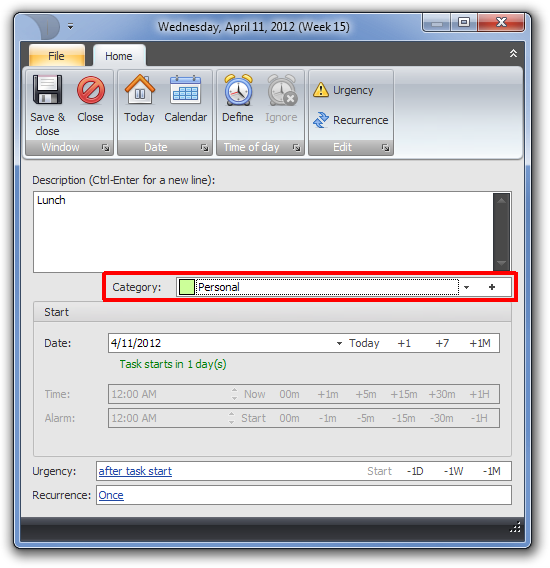 This article covers only the basic working of the application and the complete list of new features can be found on the product page. Moreover, a comparison between the free and paid versions of the application is also available. The application works on both 32-bit and 64-bit versions of Windows XP, Windows Vista, Windows 7 and Windows 8.