Devpad Is Multi-Tab Source Code Editor Supporting C#, C++, VB.Net, Php, Html And More
Notepad++ is one of the most widely used applications by software and web developers all around the world. Should you have been looking for some alternative solution, try Devpad – an open source developers' Notepad which supports C++, JavaScript, Html, PHP, XML, HTML and plain text files. It is a tabbed notepad which can be used either to create new documents or to import text and development based files for viewing and editing. Using Devpad, you can work on a number of files from the same or different development platforms within convenient tabs. For example, you can view and edit an HTML and PHP code file simultaneously within DevPad, using tabs. It is a similar application to VB.Net Multi-tab Source Code Editor and can be used to edit codes from multiple development platforms.
When Devpad is launched it displays a transparent background and does not open with a blank page. To start working on a new file, Click New and select a development platform. The available options include, C#, C++, javaScript, PHP, VB.Net, XML, HTML and Misc for miscellaneous. When you select a platform, you are provided with additional options (if relevant). For example, if you select HTML, you are provide with the choice to create a HTM or HTML document. You can rename the document and change the default name from the text box at the bottom. Click OK to create your document.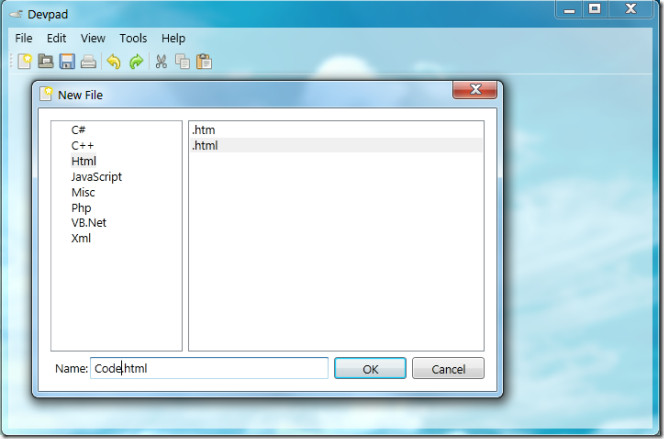 Once done, you will be able to work on your document with the usual options one would expect in a common Notepad, except for the fact that you will be able to work on  separate file types in tabs from different development platforms. Therefore, it is worth mentioning here that Devpad aims to combine multiple development platform with tab supports and adds a few additional features like syntax highlighting and line numbering, which can be useful for develoeprs to single out important areas of the code.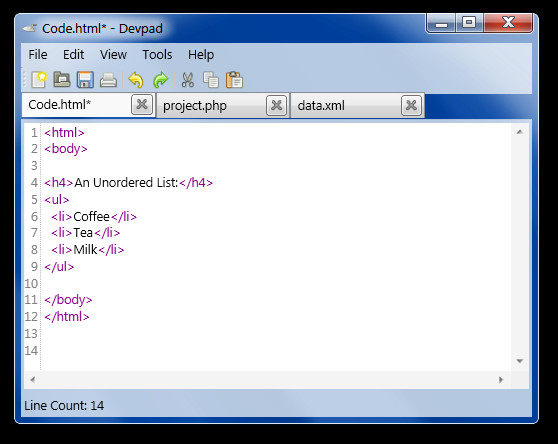 You can also import existing documents from supported formats (e.g. HTML, PHP, XMl, etc) from the Open button on the top toolbar or from File –> Open. Other than the common cut, copy, paste, undo, redo options on the toolbar, you can also click Print button to print your files. In case you wish to view the code with fewer objects, you can disable the  top toolbar and status bar from View menu.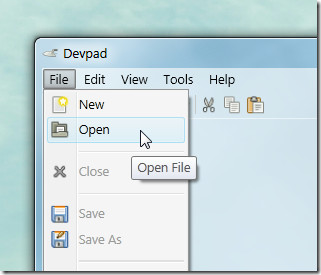 Devpad works on Windows XP, Windows Vista and Windows 7, provided you have .Net Framework 4.0.