DHE Drive Info: Portable Tool To View Detailed Hard Drive Statistics
Preventing hard drives from failures and crashes can avert the loss of important data, but assessing the health of your hard disk manually can be time consuming. When a hard disk is working, temperatures increase during processing and read/write operations. Heavy applications, such as virtual machines, put a lot of stress on the hard disk. In order to keep the hard disk working fine and making sure that it does not crash, you have to keep an eye on how it is performing. DHE Drive Info is a portable application for Windows that lets you view the detailed information about connected hard disks according to their partitions. The application has options to view the basic information, S.M.A.R.T. data, S.M.A.R.T. Logs, Control different settings of the hard disk, view Hidden Areas and access the Sector Browser. Moreover, the system tray of DHE Drive Info shows the current temperature of the hard disk. Read on to find out more about DHE Drive Info.
Having your hard disk running at optimum performance is important if you want to not let it crash and take all your data down with it, but for anything to be running smooth, you need to keep an eye on how it is performing at the moment. So that if there is a problem, you can know about it before the hard disk crashes.
The application has basic hard disk information, including size, number of partitions, Windows version, CPU name and clock speed etc, at the top. The Name, Type, Size, Serial Number and Status appear in the middle, while 6 tabs for accessing different types of extensive information and hard drive settings are available at the bottom.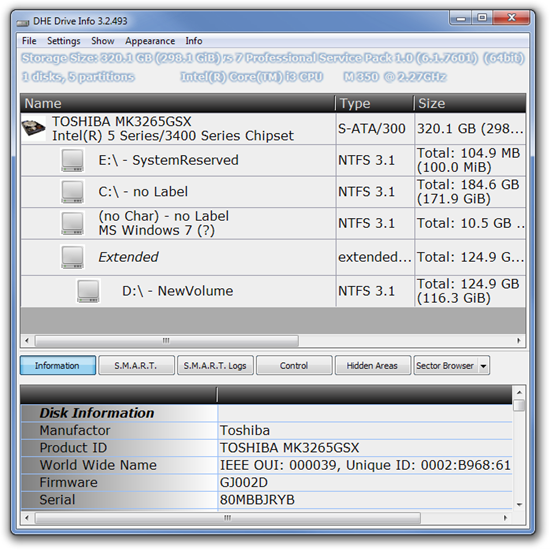 The 6 tabs at the bottom, namely Information, S.M.A.R.T., S.M.A.R.T. Logs, Control, Hidden Areas and Sector Browser, let you view the extended information about the connected hard drives. For example, the S.M.A.R.T tab details information including Temperature, Value, Threshold, Worst, Raw, Type, Capabilities, Self-Tests etc.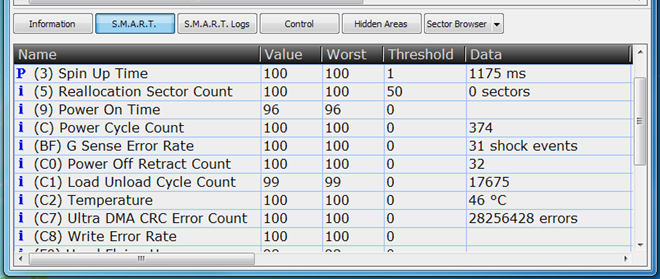 This article does not cover all the features offered by the application, and the complete list can be checked out at the product page. DHE Drive Info has a memory foot print of around 5 MB, and works on Windows XP, Windows Vista and Windows 7.