DI Radio Player Is An Internet Radio Streaming App On A Diet
Radio apps come in a variety of shapes and sizes for almost every mobile and desktop platform. But how many of them actually offer a way to access multiple radio broadcasters under one interface? Not many I guess. Should you have been looking for one, try DI Radio Player – a desktop application for Windows that gives you access to four renowned radio broadcasting services and allows you to access their radio channels. The list of services includes Digitally Imported, JazzRadio, RockRadio and SKY.FM. You can explore and listen to thousands of radio stations, music genres & artists, and switch between the supported services on the fly. The application even allows you to log in to these online radio services from within the app, and boasts features like user-customizable hotkeys, visualizers and a software equalizer.
The application centers around providing streaming for online radio services that don't offer native Windows clients by default. For instance, Digitally Imported is a fascinating and fairly popular service with apps for platforms including the web, iOS and Android, but doesn't have dedicated apps for desktop platforms like Windows and Mac OS X. DI Radio Player not only fills this gap, but does it the way it should be done.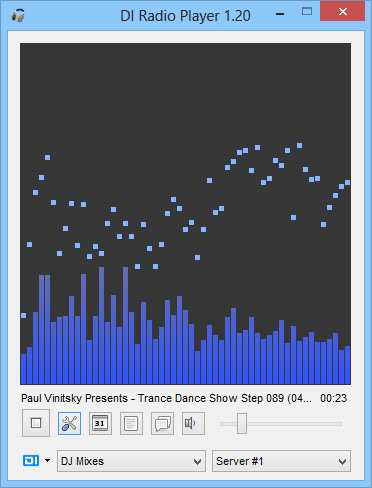 Even though, it lacks the bells and whistles of many popular radio apps for Windows that we have covered in the past, don't let its simple interface fool you; it's fairly powerful at what it does. The interface consists of a large visualizer that reacts accordingly in response to the current audio fidelity. Right below the visualization effect, you will find navigation controls for play/pause, mute, volume and options, and contextual buttons pertaining to Digitally Imported. You can select your desired radio channel from the drop-down menu, and switch between the supported broadcasters using the minuscule buttons. The application also allows users to switch the server, which comes handy during a server's down time. The list of radio stations is fairly impressive as well.
Move to the options window and you will find a multitude of tabs for configuring DI Radio Player to your heart's content. The Main tab mainly carries generic settings pertaining to features like application updates and startup behavior. The Account tab facilitates users for logging into their account in any of the supported broadcaster. You can even create a new account from scratch without leaving DI Radio Player window. Virtualizations and supported hotkeys can be customized under their own tabs also available under the Options.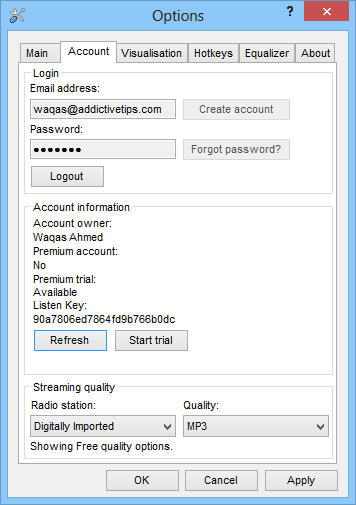 DI Radio Player includes an integrated software equalizer, so you may adjust the audio according to a tracks genre. Besides letting you manually fine-tune the equalization, common presets such as metal, rock, dance, pop etc. are also included.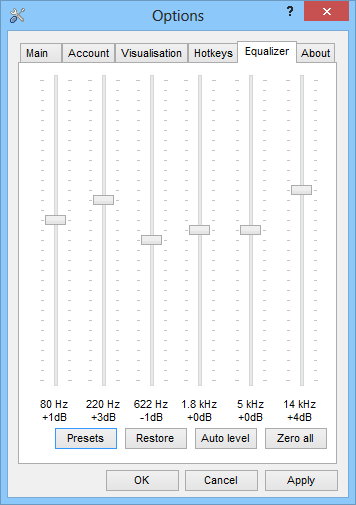 DI Radio Player works on both 32-bit and 64-bit versions of Windows. Testing was carried out on Windows 8 Pro, 64 bit.