DirList: Create Filtered File Listings In HTML And CSV Format
DirList is an application for Windows that allows users to browse through both local and removable disks, and selected locations. What makes it unique from similar tools is its ability to apply wildcard entry filters over file listing, i.e., you can choose to filter out files by extensions, pre and post fixes in titles etc., by using asterisk (*) character. It lets you recurse subdirectories, list down sibling folders, and choose types of folders and files that you want to create the list for. The lists can be saved in CSV or HTML format, which can prove to be very useful while sharing file listing in online forums and exporting file and folder names to databases.
The application has three tabs at the top namely Explorer, List and Preview. To begin, under Explorer, navigate to the files and folders which are to be listed. Now, select the folders and define listing parameters from underneath the main window. The supported parameters are Clear Previous List (to create a new list from, scratch), Recurse Subdirectories (to include all the subfolders of selected folder), List unchecked sibling objects (to list all the folders inside the parent directory) and List directories (to include only specified files in the list). Once you define the parameter to use, click Start to create folder and file listing in List tab.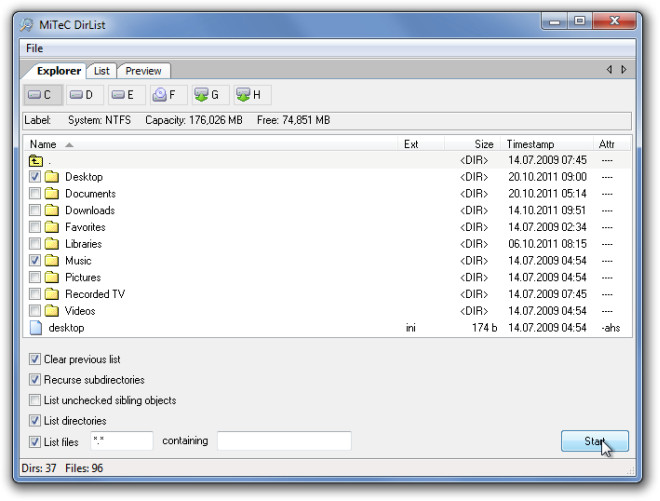 Once created, you can generate file listing report in HTML and CSV format. Before you select the required format, select the columns you want to show in report. The [Columns] section contains the file and folder attributes, such as Path, Name, Extension, Size, Created, Modified, Accessed and Attributes. For HTML report, you can specify the list title, and colors for gridlines, header, cells and font. Under [Report format] section, pick either CSV or HTML format, and then click Preview to generate the list in specified format.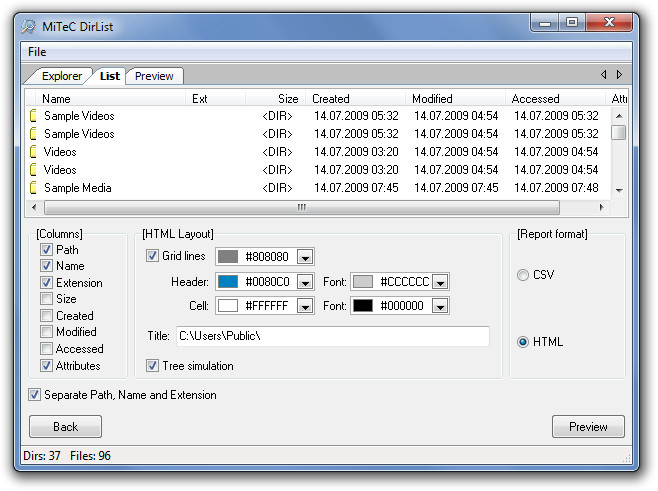 The Preview tab lets you view how the end product will look like when saved. If satisfied, you can Print or Save the List by clicking their respective buttons.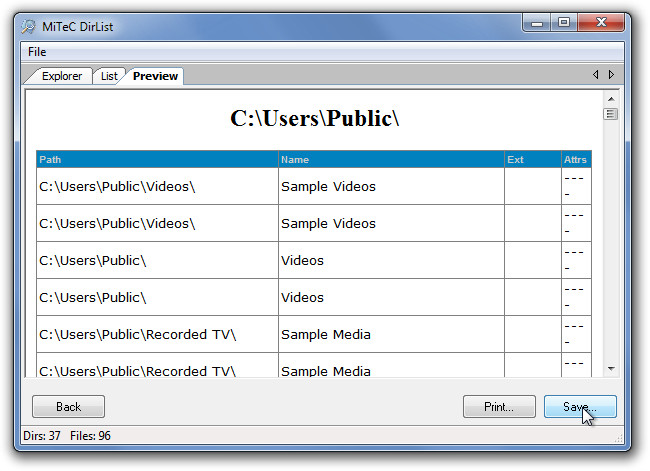 DirList is a portable application and works on both 32-bit and 64-bit versions of Windows XP, Windows Vista and Windows 7.