How to disable Taskbar thumbnail previews on Windows 10
When you hover your mouse over the Taskbar icon of a running app, you get a small preview of it. We've done a post that shows you how you can make this preview larger if you don't like the default size. That said, if you think the feature isn't that great, you can disable Taskbar thumbnail previews on Windows 10 with a registry hack.
Disable Taskbar thumbnail previews
This hack involves editing the Windows registry so you will need admin rights to execute it.
Use the Win+R keyboard shortcut to open the run box and type 'regedit' in it to open the registry editor. Once you have the editor open, go to the following location.
HKEY_CURRENT_USER\Software\Microsoft\Windows\CurrentVersion\Explorer\Advanced
Under the Advanced key, look for a value called ExtendedUIHoverTime. If it's there back it up before you modify it. If you don't see it, you can create it yourself. Right-click the Advanced key and select New>DWORD (32-bit) Value. Name the value ExtendedUIHoverTime and double click it to set its value.
In the value data box, enter the following;
41fffffe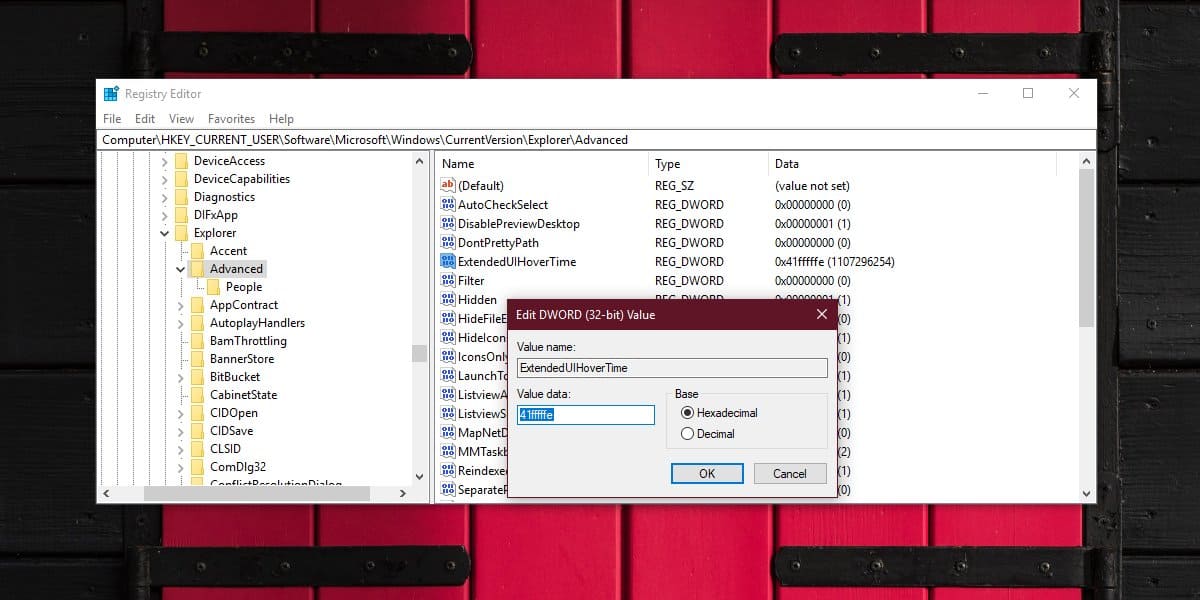 Click Ok and then restart File Explorer. To restart File Explorer, open the Task manager and in the Processes tab, look for Windows Explorer and select it. Click the Restart button at the bottom and wait for File Explorer to restart. Your desktop background, system tray, and taskbar will disappear and reappear during the process.
Once your desktop looks normal again, hover your mouse over any app icon in the taskbar and you will no longer see a preview.
If you ever want to get your taskbar previews back, you need to delete the DWORD value you created. You should avoid changing its value to something else and instead remove it from your registry. Make sure you restart File Explorer after you delete the value.
There are apps that allow you to disable Taskbar thumbnail previews but they essentially do the same thing i.e., edit the Windows registry. If you're uncomfortable with editing the registry manually, you may use an app instead.
If you have trouble getting this trick to work, you should try restarting your system after making the edit to the Windows Registry. Normally, restarting File Explorer should be enough but in some cases, a restart may be needed. If you're running any apps that modify the Windows 10 UI, consider disabling them first before you make changes to the registry. Apps that modify the Windows UI shouldn't really interfere with the registry but if nothing else can get this trick to work, it might be an app that's blocking it.
This works on Window 10 1809.