How To Disable The Windows Welcome Screen After Updates In Windows 10
Windows 10 updates don't always go smoothly. The download can get stuck or, if an update is successful, you might end up with lots of broken features. Case in point the Night Light feature rolled out with the Creators Update. The entire process of the update takes quite a while. The 'Just a moment' screen is often there for more than a few moments. When is all done, you don't boot to your desktop. Instead, Windows 10 shows you a welcome screen and will sometimes try to show you what's new. If you've already been staring at the 'Just a moment' and 'We're getting things ready' screen for an hour, you don't care much for the welcome screen. The good news is, you can disable the Windows welcome screen after updates.
Disable The Windows Welcome Screen
Open the Settings app and go to the System group of settings. Select the Notifications and actions tab and scroll down to the 'Notifications' section. This section has a few switches for enabling and disabling notifications.
Look for the 'Show me the Windows welcome experience after updates and occasionally when I sign in to highlight what's new and suggested', and turn it off.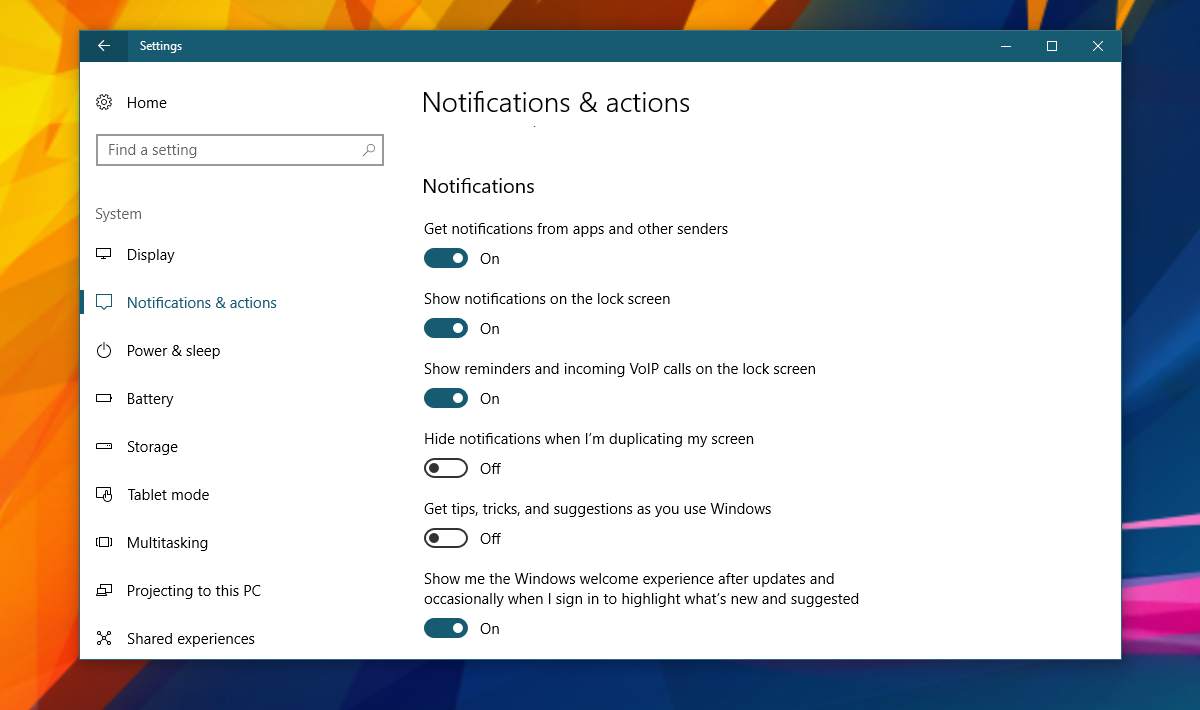 When you disable the Windows welcome screen, you also disable the annoying little pop-ups that Windows 10 shows you after an update/upgrade. These pop-ups point out new features or suggest things for you to try out. They appear both on your desktop and in apps, and are equally annoying.
You will still see the start-up screen that you get when you boot into Windows 101. This setting applies exclusively to welcome and introductory screens you see after a Windows 10 update. It won't get rid of the intermediary screens that you see while an update is being installed. This goes for both the screens you see when an update installs, and when you boot into Windows 10 and the update is being finalized.
This setting is available in the Creators Update. If you don't have the Creators Update, you will have to look at the welcome screen one more time before you can disable it.
Normally, the welcome screen doesn't have any new settings. If Microsoft decides to add new settings or configuration options to the welcome screen after an update, you will probably miss it with this option turned off. That's not reason to worry because Windows 10 always lets you go back and change the settings later. You might have to dig around for the options. They might be in the Settings app or in specific stock apps and you'll need to find them all.